Activision, Beenox, and Griptonite are bringing a new Spider-Man game to Wii and DS. Find out about what these games are like in two interviews about each version.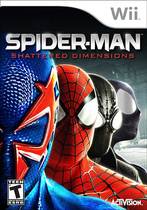 Over the next couple days, we're going to have interviews from Thomas Wilson, creative director at Beenox, and Brad Lansford, senior designer at Griptonite, about Spider-Man: Shattered Dimensions.
Beenox, known for their work on Guitar Hero: Van Halen and the Wii version of Quantum of Solace, are handling the home console versions, which feature four different Spider-Men from different dimensions working together. The four dimensions are Amazing, modeled after '60s-era comics; Noir, modeled after the little-known one-off series; 2099, the futuristic incarnation of Spidey from the '90s; and Ultimate, which features the webbed wonder in the black symbiote suit in a world like the Ultimate Universe.
Spider-Man: Shattered Dimensions is coming out on September 7.

Thanks to Thomas Wilson, Brad Lansford, Wiebke Hesse, and everyone involved with the game!