NWR chats with the Tatsunoko vs. Capcom producer at the game's New York City launch event about his past, present, and wish to work with Nintendo and Square Enix.
Capcom took over Nintendo World Store in New York City last weekend to celebrate the launch of Tatsunoko vs. Capcom: Ultimate All-Stars. The game, an update to the Japanese-only release from 2008, features new characters, levels, and a heavy focus on appealing to gamers all over the world.
Produer Ryota Niitsuma, who worked on the previous iteration and 2009's Street Fighter IV, was on hand at the event to talk about the game, as well as sign anything anyone put in front of him. According to Capcom, he signed for over four hours and wore his fingers to the bone.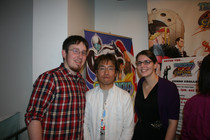 Nintendo World Report (NWR): You previously worked on Street Fighter IV. What did you learn from your work on it?
Ryota Niitsuma (RN): I learned a lot working on that game. One of the things is not something you can see, but it is how to balance the game. That's the most important part. Just working on the game, all the things involved with it, like the presentation of the game and such. We tried to bring that. Some of it we couldn't use in Street Fighter IV, so I took what we could use from that and put it into this game. There were parts that were not related to the game itself that we used while actually making this game.
NWR: Why did you use Tatsunoko? Were you worried about North America and Europe's unfamiliarity with the brand?
RN: In the beginning there was a little worry about whether the characters would sell over here, but from my point of view, I wanted to present it to Europe and North America as a new fighting game in the Vs. series. So this was a new Vs. series game where you could use the simple controls and over-the-top moves, and we hoped that the audience would accept it for that type of game instead of looking at what the characters were. But once they play the game, my goal is that I hope they get to know the characters and then they start to like them.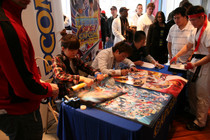 NWR: What went into adding the new characters in Ultimate All-Stars? Were some of them left out of the original?
RN: There was some of that; what we couldn't do in the first game, we did in this one. But mainly the reason for the characters is because they there were requested from the fans. The fan reaction to the first game was good, and if we did something more, these are the characters that the fans from America and Japan wanted us to put in the game. So we had requests for Frank West and Tekkaman Blade, both very popular characters with American and Japanese audiences. Basically, we used fan requests to decide what characters to add in the game.
NWR: Why were the original animated endings and the mini-games not included in Ultimate All-Stars?
RN: The main reason was that there just wasn't enough time to translate it and localize the game for the American and the European markets. We just weren't able to get in all the endings and include them in that form. There were other issues involved in that as well. As far as the mini-games go, I guess I didn't do enough research because I didn't know that Americans would want those mini-games and that they would want that to be a part of the game.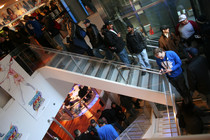 NWR: Did you have any input on the fight stick that Mad Catz is putting out?
RN: We have someone on our dev team that deals with the button layouts and sticks and things like that, so they provided the feedback on the actual mechanics of it, but as producer, I provide feedback on the design of the stick.
NWR: Are there any more Vs. ideas in pipeline? Who would you want to have Capcom square off against in the future?
RN: There are a whole lot of properties that I would like to work with, a whole lot of game developers I'd like to work with in America. I'd love to do something with Nintendo maybe, or Square Enix, maybe do something with them. That would be pretty cool.
On the other end of the spectrum, something unrelated to video games like movies or TV, some sort of properties that involves something completely different.
NWR: Like Tatsunoko?
RN: Yea. Anything that's out there, I'd like to try it.
Thanks to Ryota Niitsuma, Miguel Corti, the rest of Capcom, and FortySeven Communications!