Here are some quick hands-on impressions of Nintendo's other new controller.
I've long been pining for a wireless Classic Controller, and Nintendo is finally delivering just that for Wii U. The newly revealed Pro Controller may be shaped more like an Xbox 360 pad, but it feels more like the existing Classic Pro than you might expect. For one thing, it's really light. When I first picked up the controller myself (to play Ninja Gaiden 3), it was hard to notice anything else because the lack of heft was so surprising. Despite being more complex and having built-in rechargeable batteries and wireless functions, the Pro Controller feels exactly the same weight as a Classic Pro for Wii, which is already one of the lightest controllers around. Yet the new controller is also more ergonomic than the Classic Pro, with fuller grips and analog sticks placed higher up, in a similar pattern to those on the Wii U GamePad tablet.
This leads to the only possible flaw I noticed: the face buttons are placed so low that it feels a bit weird to reach down for them. The bottom one, B, is practically sliding off the bottom of the controller. While playing Ninja Gaiden, I kept going to A for jump because it's already directly below the right joystick; but no, I needed to go even farther to reach B, which is not only lower but also placed more towards the center of the controller. This is the kind of thing that may be easily adaptable for the player over time, but it was slightly disorienting when playing for the first time. None of the other console controllers or handheld gaming systems have face buttons in quite this location relative to a nearby joystick, so it feels like a new and strange location for important buttons. Even if we do grow accustomed to the change, there will have to be a mental flip anytime we go play other controllers after spending a lot of time with the Pro for Wii U.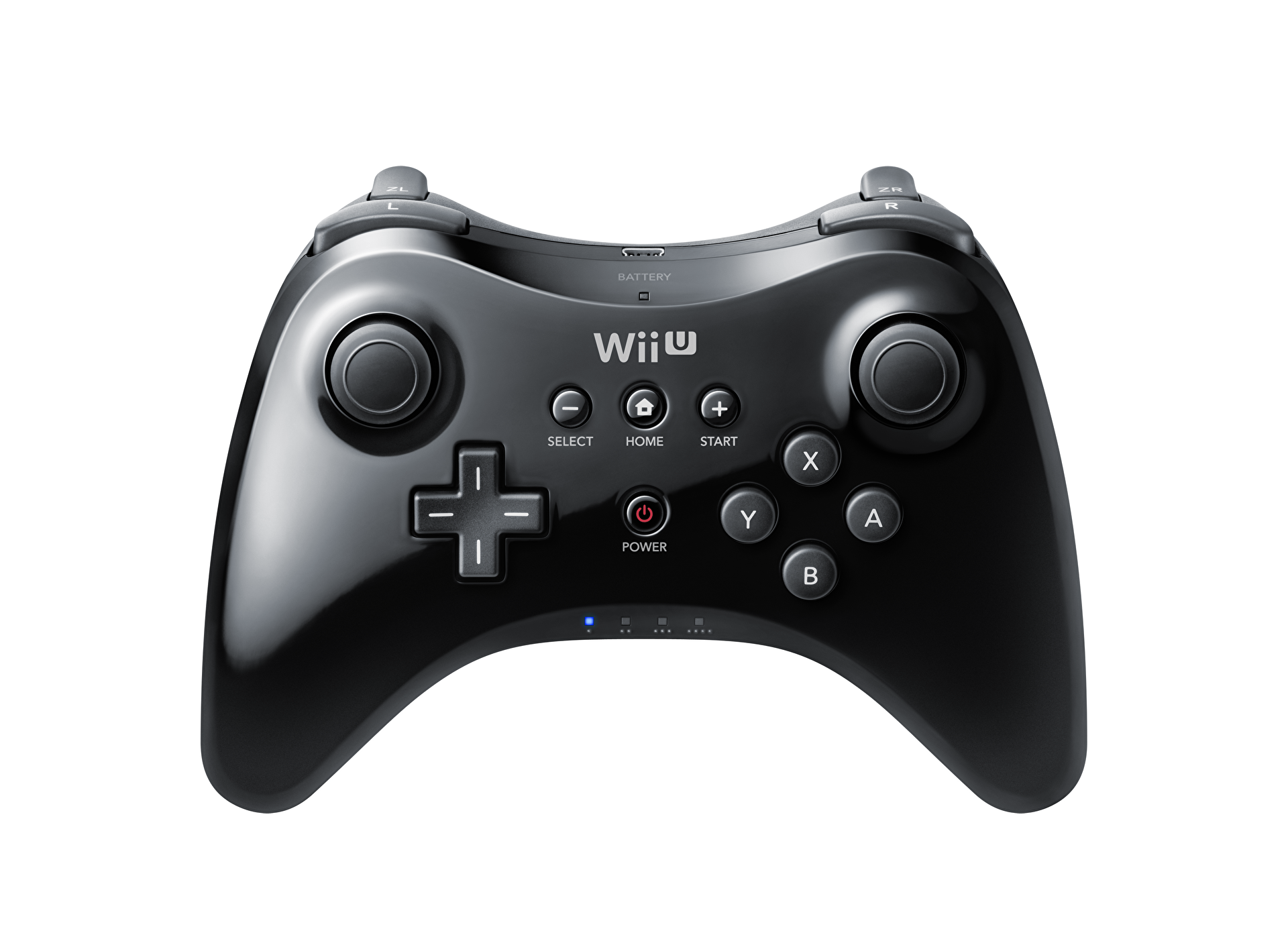 Everything else about this controller was solid and felt high-quality, from the "throw" of the face buttons to the tension of the twin joysticks (slightly higher than on my Classic Pro, it seemed). The shoulder buttons are very clicky and responsive, which was useful for quick and frequent dodging in Ninja Gaiden 3. I looked all over the controller to find a mini-USB port on top, presumably for charging, as well as a tiny red Sync button on the rear. There's a big Home button in the middle, just like on the Classic Pro. The upper face of the controller is shiny black plastic much like the Classic Pro, but the underside has a rougher texture for grip, and it's more of a gray color. There is no IR port for navigating pointer-based menus, but we don't yet know if this will actually be necessary when booting up Wii U, and you'd still have the big GamePad somewhere nearby for easy menu navigation on the touch screen or using its own pointing feature. Finally, there is a power button on the Pro Controller itself -- should be nice for turning on and off both the system and controller from afar.
I'm looking forward to spending more time with the Wii U Pro Controller here at E3 -- it's also available for the Rayman Legends demo, the multiplayer ZombiU demo, and possibly others. One lingering question I have for this device is whether it can be used for Wii games that already support the Classic Pro, such as Xenoblade Chronicles, when playing in backwards-compatible mode on Wii U. Regardless, it is a nice edition to the platform and should be a welcome option for players who want less weight or longer battery life than is possible with the large GamePad tablet for Wii U.