Octo friends, new friends, old friends. It doesn't really matter when you have a permanent Inkjet.
Splatoon 2 is my favorite Nintendo Switch game. Okay, so that isn't a surprise to anyone who kind of knows me. What you might not know is that I replay the single-player missions for the best times possible. I like to challenge myself in new ways and bring out the best in myself. Sure, that isn't always the easiest of endeavours, but it is very engaging nonetheless. What if you took the idea of these single-player runs but baked in its harsher difficulty from the moment you hit start? That is what I got with Splatoon 2 Octo Expansion. A campaign that feels grown up and leaves the trusted waters of tropes behind. With more than 80 missions, Octo Expansion promises intrigue at every step. Today, I got my first look, and I'm thoroughly impressed thus far.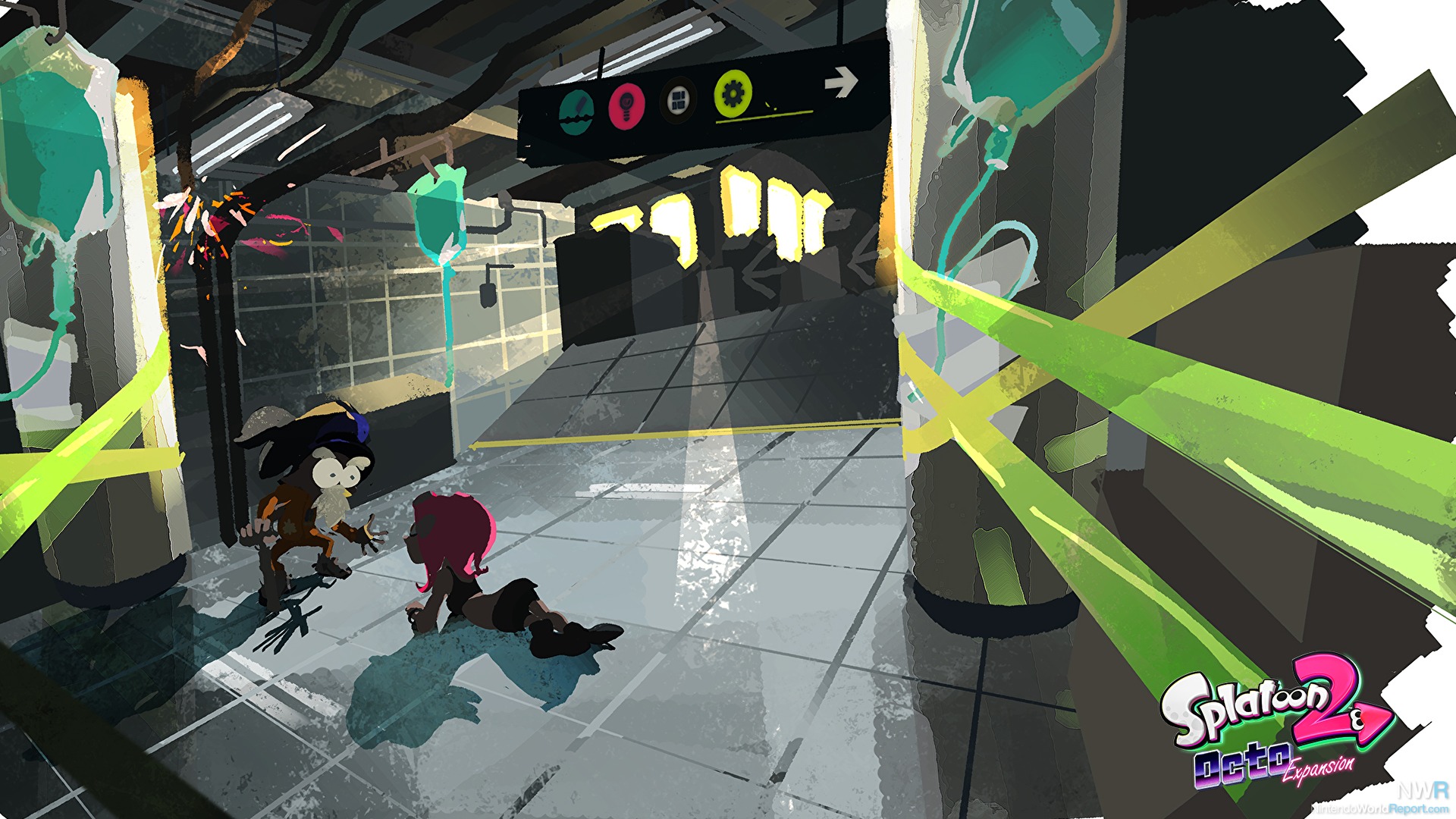 Unlike what I initially thought, not every mission in Octo Expansion follows the same format. For example, I imagined that its missions would be put on a timer. This ended up not being the case as only two enforced a strict time limit. Another thing is how the structure of the missions really differs. Some embrace a singular screen, while other have a path for you to partake in. One thing is certain though: the missions found in the demo build felt a lot more focused than before. They don't use a large number of mechanics, instead opting for a weapon and some key rules.
I adore the set-up of the assignments. In some missions, you get the choice of a weapon to use. C.Q. Cumber, the conductor of the underground railroad, would give you an idea of what to expect. It is then that you would go to the equip terminal and see what fits in your eyes. The game does recommend you a weapon, but there are options for a more difficult frontier if you so desire. In a mission where the Splat Charger would be a better choice, you will get a reward if you willingly choose a Blaster instead. Players can tweak the experience to their liking, which is something I honestly enjoy.
Once you are certain, you move to the ticket gate and pay the entrance fee. From that moment on, you are locked in with the choice you made. You can go back through the options, but that will require you to pay the fee again. During the missions we played, the Octoling had three lives at her disposal. Hitting checkpoints doesn't you give a life back, so it is important to be careful. There are objectives that leave very little room for error, so you will use all of those chances. The game does allow you to use additional tickets for a new set of rounds, but that comes down to managing funds.
While you play, similar to Marie in the regular campaign, other characters will sport lines or tell you what is up. Cap'n Cuttlefish makes its comeback, together with Marina and Pearl. The lines in the demo focused on the missions itself, but the world shows its neon colored roots to the fullest. New details and secrets on the world will be uncovered here as I was told. In either case, the world is filled with 90's references and a different lens than we are used to. I think it makes Octo Expansion stand out as its own entity instead of retreading what the original campaigns accomplished.
Speaking of retreading, let us discuss the six missions that were available in my build of Octo Expansion. Iceman Station sees you flying with the Inkjet on a track with deadly gaps. It will see you utilizing the B-button for small hops, changing into an octopus and attacking enemies along the way. The timing of these hops is so incredibly important as the room for error is small. Breakdance Station sees you battling on crates in the air. While the mission is short with just three simple waves, the trick is to maintain enough space to move around. You could opt for either a Flingza Roller or a Tri-Slosher, so I obviously went for the Roller. Because chaos.
In Tubular 8-Ball Station, you need to bring a big 8-Ball to the other side of the map. With a Splattershot in hand, you will have no problem moving it around. Things get nasty when enemies start shooting the ball, too. Next to that, there are bumpers and Balloon Fish that you need to take into account. The fourth mission is when you-know-what started hitting the fan. While you can use other weapons here (...why?), you should be doing this one with a Splat Charger. Right Round Station requires shooting 20 enemies that constantly rotate on a set path. Equipped with Splatlings and Chargers, these enemies are relentless in trying to shoot you down. This one took easily the most attempts. While the two minute limit seems like a lot, you aren't prepared for some of the patterns.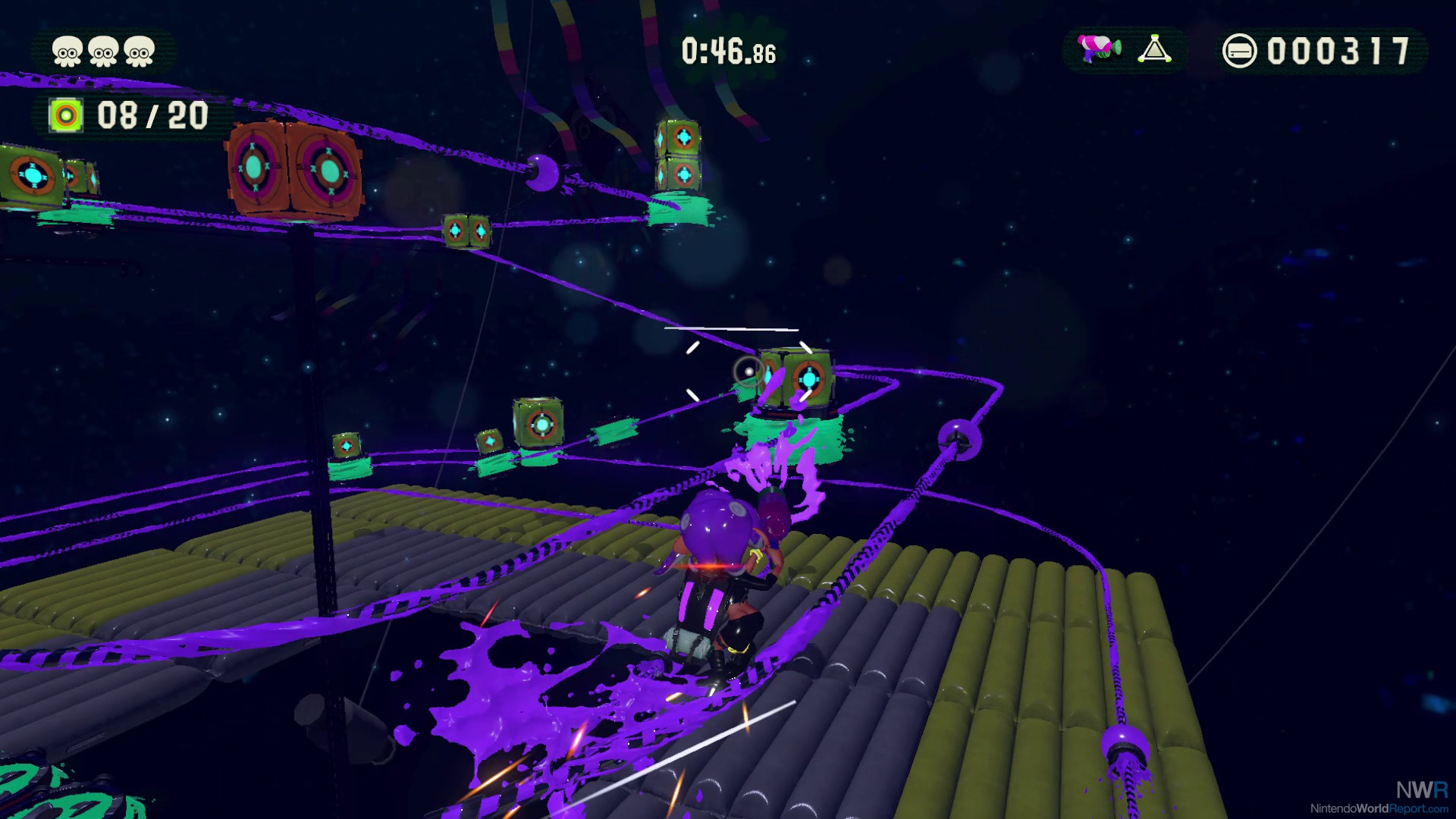 Now we get to my favorite mission out of the bunch: Ballercise Station. You are permanently stuck in the Baller Special Weapon, while you try to escape within a time limit. By hitting checkpoints, you will replenish the time required to get to the end. This won't be easy though as enemies block you without fail and try to throw you off the track. With some snappy moves and well placed jumps, you will get to the end before you know it. Last, we have Radical Rails Station. While not as hard as Right Round, this isn't a cakewalk either. You will need to destroy 20 targets in one all perfect run. The player jumps between inkrails and tries to destroy them all in just one minute. Punishing? Yes, but doable considering the three weapons they chose. It comes down to your timing.
All in all, I was pretty impressed with my first gander at Octo Expansion. The world of Splatoon 2 is getting larger in the best way possible, and I can't wait to dive in fully. With more than 80 missions to get through and plenty of goodies to unlock, I can't wait to get engrossed by all the goodness. The six missions on display were enjoyable, hard-hitting, and above all, unique. They build upon the mechanics of Splatoon, and go above and beyond to do something cool with them. Whenever this releases, I will be right there for the entire way.