Too pool for school.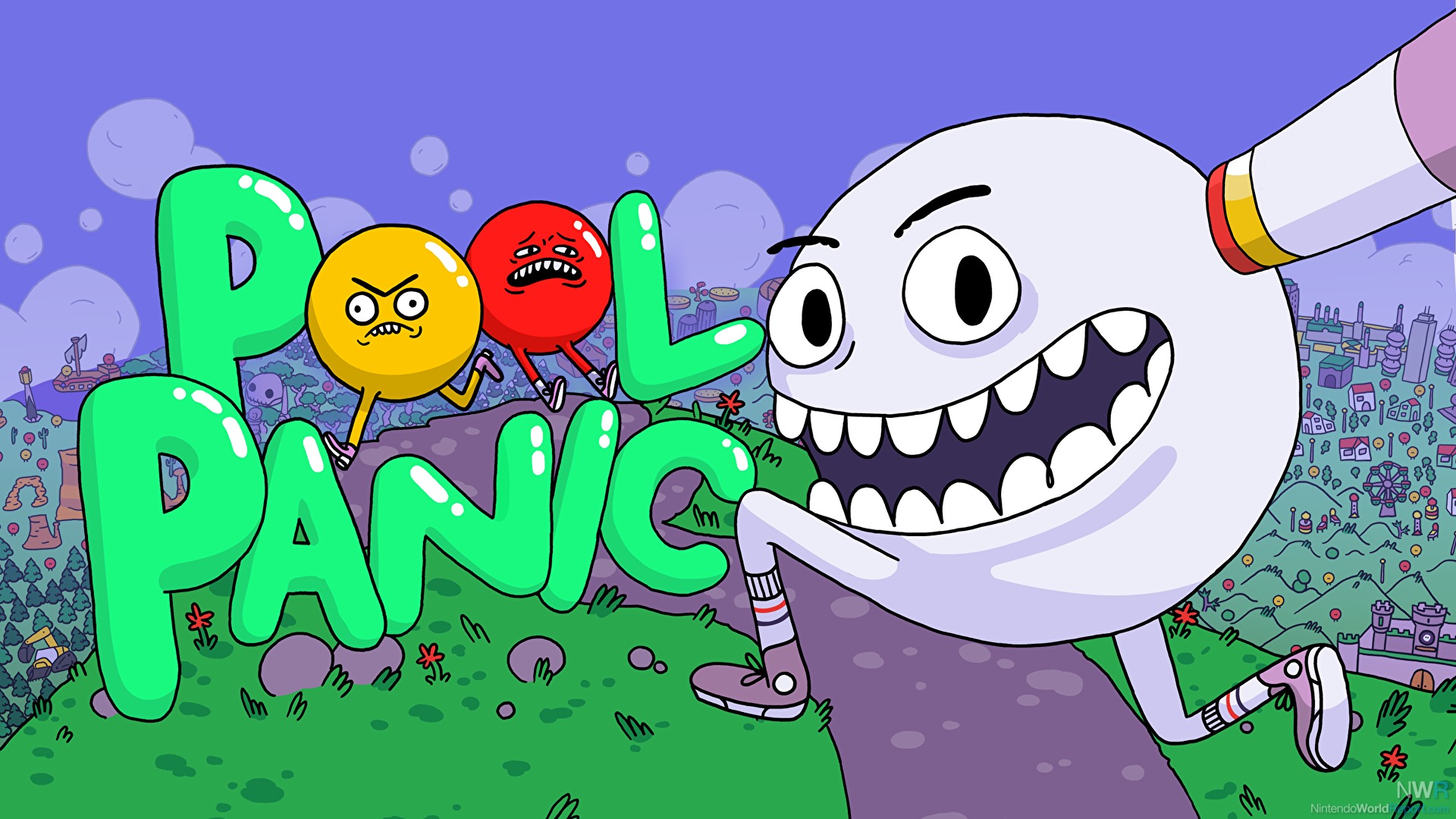 When I first saw Pool Panic on the Spring 2018 Nindies Showcase in March, I wasn't quite sure what to think. Is it an action game? Is it a puzzle game? Why is there a Zelda II-style overworld? After playing the game at PAX East, I am happy to confirm that I now have answers to all of my questions. Namely: kind of, yes, and because Zelda II is cool.
During my play session, I played somewhere between 5 and 10 of the game's 100+ levels over one half-hour. I didn't see much in the way of story, though the developers at Rekim suggested it would be present in some capacity.
As for first impressions, I'll start by saying that the game is beautiful, and probably represents the first time an Adult Swim game has really looked like an Adult Swim show (I got major Superjail! vibes). The visuals have an interesting aesthetic where the characters are all drawn in 2D, while the environments are 3D. The quirky soundtrack, which features a different song composed for every level, is also nice.
When playing, the game's many levels are accessed through a Zelda II-style overworld map. Once you enter a level, your goal is to "play pool." I use quotes for that because, as the game is advertised, it is "the world's least realistic pool simulator." Yes, you're a cue ball sinking other balls into holes—concluding on an 8 ball—but the similarities more or less end there. You control the cue ball by running around the screen, but you're also the cue, aiming your shot via control stick and hitting your ball by varying degrees of strength.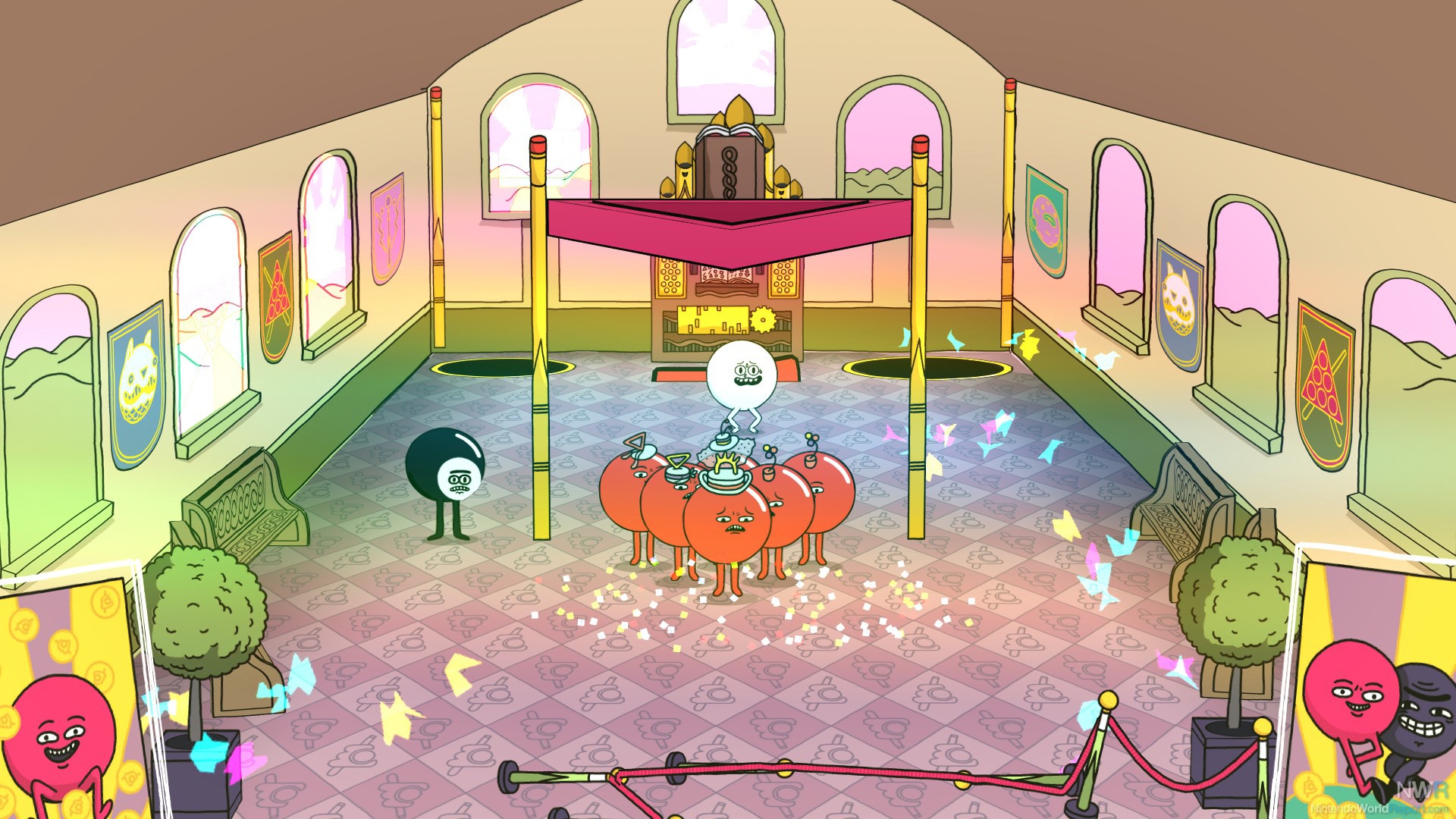 It reminds me of a more advanced, polished version of those old billiards flash games you might see on Newgrounds or Addicting Games, which is one of the highest compliments I can bestow on a video game. I picked up the controls rather quickly for this reason, but because it's a less conventional way to control a game like this, I could definitely see some players facing a solid learning curve.
Developers Mike Robinson and Angus Dick pointed out that the gameplay starts out relatively simple, and gets weirder and weirder as you get deeper and deeper. In the first levels I played, I was on a pool table shooting billiard balls with faces into holes.
In a deeper level, I was sinking monster billiard balls into holes with a spooky forest backdrop.
In a deeper level, I was sinking a band of balls that were playing music on a Mickey Mouse Club-style bandstand, and to win, I had to manipulate the balls by leading the band into the hole using the power of music.
And in a deeper level, I was in a house with two rooms of equal size; one was an old school living room with a TV, and the other had a giant chunk of cheese with mice stuck to it. I needed to hit my character into the various holes of cheese to poke the mice out of the other side, and once I did that, the mice went to watch TV with the 8 ball in the living room. The 8 ball then realizes it's watching TV with mice, gets scared, and then runs into the hole, ending the level.
And that's just the surface-level explanation of what I saw. Every level I played had slight quirks (if not full-on mechanical differences), and there was other cool stuff too, like how you can get RPG-style "party members" after finishing levels. I recruited a monster pool ball to my party, which allowed me to scare away the bears that were blocking progress to another part of the map.
While puzzles got a bit more challenging over time, the game had an overall laid-back, chill, easy-breezy attitude. The penalties for either prematurely sinking the 8-ball or the cue ball were minimal, and the puzzles that I played weren't terribly hard (though I imagine that could change as I get deeper into the final game).
Overall, Pool Panic feels great. Every ounce of the game was bursting with personality in a way that, to me, suggested a deep level of love and care from the developers into the game they were making.
While Pool Panic was barely on my radar when it was announced, it's now one of my most anticipated Switch releases. No word on a specific date quite yet, though the official word I got during my appointment was "coming soon-ish."