It's time to fight crime and do some detective work with a talking Pikachu.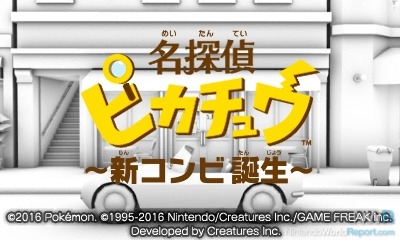 Pikachu is a detective now. Well, ONE Pikachu is a detective that is apparently capable of saying more than, "Pika" in the recently released Meitanei Pikachu: Shin Combi Tanjō (aka Great Detective Pikachu: Birth of a New Duo) on the Nintendo 3DS. Detective Pikachu has been a known quantity to some degree after the game was outed on a Japanese TV program a few years back. Despite this, almost nothing was known about the game until now. After sinking a few hours into the final Japanese version, I can say that Detective Pikachu is something that diehard and even lapsed Pokémon fans should check out.
Detective Pikachu kicks off by introducing you to a city dwelling Pikachu who likes coffee and cute girls. He unfortunately never has any luck with the lady folk because they can't understand a word that he's saying. It isn't until a chance encounter with Tim Goodman that Pikachu actually finds the one human that can actually understand every word he's saying. This turns mutually beneficial for the two as the happen upon their first case when a pair of crazy Aipom nab a little girl's necklace and take off. This in mind, interactions with NPCs are not just limited to human characters. With Pikachu's ability to speak with other Pokémon, he translates for Tim and also feeds him things to say to other human characters in order to solve cases. This dynamic serves as the foundation for everything in the game.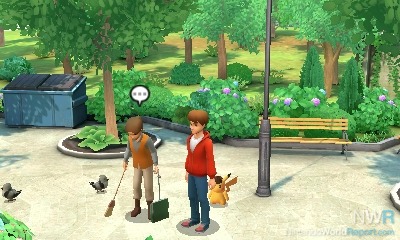 There a few different facets of gameplay in Detective Pikachu, all of which are easy to get the hang of. You're able to move around freely in the segmented parts of the world and interact with items while searching for clues. The touch screen is also used at times as well. For example, after tracking down one of the aforementioned Aipom, Pikachu and Tim had to search his unconscious body for clues. This was done by touching the creature itself as well as other debris scattered where he was laying down. There are even a few quick-time-events that I came across. Simply put, there is a lot of variety here but nothing at all about fighting or raising Pokémon.
Detective Pikachu is a decent looking game filled with cutscenes with funny dialog. Just getting to hear Pikachu's middle aged man voice being very frank with people is a laugh. All of the other Pokémon represented in the game retain their cries to put gamers into the world as well. The visuals are good at times and go out of their way with extra details, such as the hood on Tim's sweatshirt bouncing around slightly as he runs. The environments however, are a bit limited. Don't go in expecting anything resembling as open of a world that you might come across in other Pokémon games. Given the fact that the game is a download title and that it's more or less a point and click adventure, the smaller areas work in its favor. It's not quite the best looking game on the system by any means, but the consistent framerate and graphical touches make for a pleasant experience.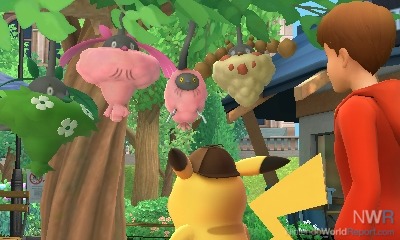 Great Detective Pikachu does what exactly what it aims to do - putting Pikachu in the role of a detective. After only clearing the first case in the game, (without giving any spoilers) the story hasn't really picked up just yet. It's difficult to determine if the game will move into the realm of crazy town that we've seen with the Phoenix Wright series or just stick with simple stuff like it has up to this point. The mechanics here are sound, the visuals are solid and the fact that you're solving crimes with a talking Pikachu are all enticing enough to at least pay attention to what the game has to offer. I'm looking forward to delving in a bit deeper to see what more the Great Detective has in store.