We check out the demo for the upcoming rhythm game from Square Enix.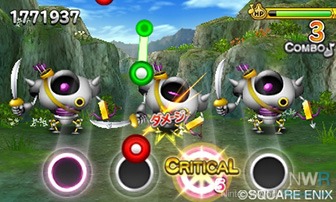 Despite the Theatrhythm Dragon Quest demo only having two songs, I've still managed to put over an hour into it. This is on top of the many hours I've spent with the two Theatrhythm Final Fantasy games. So yeah, I'm pretty into Theatrhythm Dragon Quest... but I'm not sure everyone else will be.
Something that is very apparent when starting up the new rhythm game is that this is definitely a Theatrhythm game - the menus are identical to its Final Fantasy predecessors. What's kind of a bummer is that the in-game character art is identical as well. The characters are still charming and adorable, but it feels like a missed opportunity not doing more to capture Akira Toriyama's distinct art style.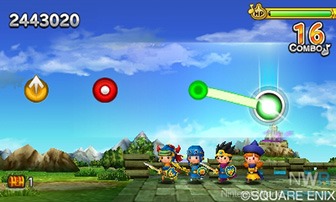 The first stage I played, a Field Music Sequence from Dragon Quest III, was quite familiar as well, as it looked and played identically to the FMS stages in Theatrhythm Final Fantasy. However, the Battle Music Sequence from Dragon Quest V was where I found Theatrhythm Dragon Quest really differentiated itself. Instead of the characters being lined up on the right side of the screen as in the early Final Fantasy games and Theatrhythm Final Fantasy, "combat" in Theatrhythm Dragon Quest takes place from a first-person perspective. This keeps true to the DQ style and makes for an interesting BMS experience, as the perspective shift means the notes are coming from top to bottom rather than left to right, which requires some adjustment.
To make the adjustment easier, the new game introduces a "simple" mode. With a press of the Y button, you can switch any song in any mode to simple and play with just button presses (or stylus taps) and no directional inputs. It's a nice optional feature that shows Square Enix remembers that Dragon Quest is a series for all players, regardless of skill level.
While Dragon Quest is for everyone, Theatrhythm Dragon Quest may not be. If you are not a huge fan of Dragon Quest's classical-style music, this game isn't going to do much for you. The new modes and features in the final game may elevate it above its predecessors, but what I saw in the demo did not signify a huge leap from the Theatrhythm Final Fantasy titles.
But for someone like myself, who can never get enough Theatrhythm or Dragon Quest, Theatrhythm Dragon Quest is sure to be a lovely way to spend many hours.