Are you ready for a new RPG from Sega involving money, school kids and butt kicking?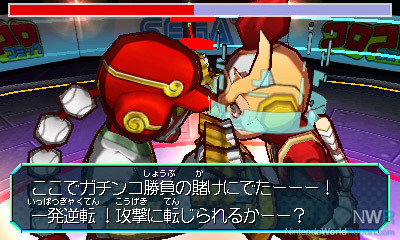 Hero Bank is a new RPG from Sega that is being touted as a "battle life RPG" revolving around gaining copious amounts of money. In the game, the main character, Kaito Gosho, somehow gets into enormous debt in the tune of one billion yen. In order to pay off his debt, he enters into the Hero Battle, a cyber sport where participants fight against each other and can gain cold hard cash. Throughout the game, you have the chance to use a variety of heroes in the Hero Battle who can give Kaito better chances at defeating increasingly difficult enemies. For the first time publicly, Sega showed off their latest RPG at TGS this year, and while the presentation is pleasant, the controls are problematic.
The demo starts out with Kaito having a quick chat with some of his friends at his school. After talking with them, you are free to roam around. The game insisted on telling you to use the touch screen to control Kaito. The bottom screen had a map, showing your character's location as well as various obstacles and people in the area. I quickly switched to using the Circle Pad to control and was somewhat annoyed by the fact that you had to press the B button to allow him to run. It wasn't difficult. The control scheme just seemed archaic.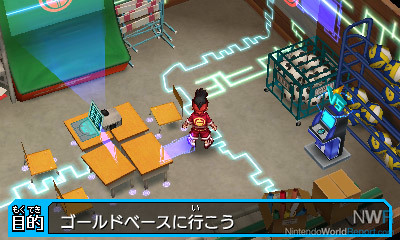 Battles in the game thrust your character into a digital, circular wrestling ring to face off against the enemy, with coins scattered around the ring. Navigation was again handled by the touch screen, only this time, you did not have the option to use the Circle Pad or D-Pad to move around. It made for a very slow and tedious trudge around the arena while the enemy would glide around with ease. Collecting the money laying around the stage is necessary to utilize various combat techniques. Once you are close enough to the enemy, a red button lights up on the touch screen indicating that you are able to attack. In the demo, there were four different attacks, each dealing out different amounts of damage based on how much money they cost Basically, the more expensive they are, the more damage they deal. Defense is also handled similarly, giving players the option to soften incoming damage by paying out some cash.
Hero Bank is an interesting concept and would work a whole lot better if the control scheme allowed for more intuitive and simple movement. With the game coming out sometime in 2014, we can only hope that Sega rethinks the control methods for the final version.