The Wii U release of Mutant Mudds basically just adds 20 ghost houses.
Mutant Mudds Deluxe is the second re-release of sorts for Renegade Kid's breakout 3DS eShop game. Following the game's early 2012 release, the team added 20 new levels as part of the game's release on PC, and later added them to the 3DS version as free DLC. For the Wii U version, slated for release this May or June, Renegade Kid is adding 20 more levels, but this time, they take place in a new ghost world, accessed by going through a mirror on the main level select screen.
In the ghost world, Max's normal shots can't harm the ghostly enemies, most of which are based on old enemies. So, for the most part, you have to dodge enemy movements instead of attacking them head-on. That's what makes Deluxe so interesting: it tweaks how you approach the game in a way that feels new and interesting. Max isn't totally helpless against the new enemies, though. You can pick up the Ghost Shot, a weapon used to defeat the muddy villains. However, even using that, you only defeat the foes temporarily, as they come back after a few seconds of invisibility.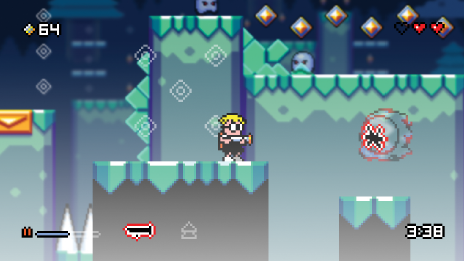 At PAX East, two of the 20 new levels were on display. While they seemed like early parts of the ghastly escapades, they were still quite challenging. Renegade Kid is also adding checkpoints to all the levels in Deluxe. Purists can skip them, but they definitely make the game a little friendlier and less daunting. Mutant Mudds Deluxe also features Off-TV Play, but aside from that, the Wii U version offers no platform-specific functionality.
Part of me wishes for Mutant Mudds 2 instead of this remake, but the fact is, the first Mutant Mudds is still an excellent game. If you've never played it, the Wii U version might be the best to get. If you have played it, the new levels might be enough to draw you back (especially since they're available from the start). I know I'll be double dipping with this game when it hits the Wii U eShop in May or June.