Those in Japan can get their sing on with this included Wii U software.
Karaoke is a huge deal in Japan. It is popular among students and families, older businessmen, construction workers, and every facet of the population. Being an avid karaoke-goer myself, hearing that Nintendo x JoySound Wii Karaoke U would be included with every Japanese Wii U made me pretty excited. The thought of singing 90,000 songs from the comfort of my own home for a fraction of the cost was extremely enticing. After performing the Wii U system update as well as the update for the application, I was set.
Before you can totally immerse yourself in hours of singing, there are a few requirements. First off, you need a Wii U USB microphone. While a few different microphones were released for the Wii by Joysound, I can't confirm if they will work with the game. Once you have a microphone, you need to purchase a ticket to sing songs. Tickets come in increments of one hour (100 yen), 24 hours (300 yen), 30 days (1,000 yen) and 90 days (2,000 yen). With these requirements taken care of, you can then easily scan through the nearly 90,000 available songs as the game pulls content from the Internet.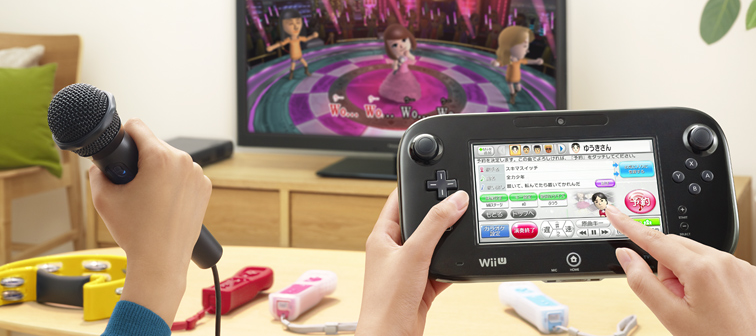 Interaction with the application is handled with the GamePad
With so many songs available, choosing what to sing can be a bit overwhelming. Thankfully, the game includes a number of helpful search options, including options to browse by artist, song, or genre. Players can also add songs and artists to their profile under what is called the "My Room" section for easy access. The ability to add several Mii characters allows all this information to be tied to whoever is playing the game. The game also includes options for changing your Mii into a number of different outfits for a bit more personal flair. With the songs themselves, players can choose several different video options, such as having their Mii on a stage in front of a huge crowd, in a recording room, or even as part of a default video you can find in normal karaoke boxes around the country. Players can even create their own venue from the in-game assets for their Miis to perform on.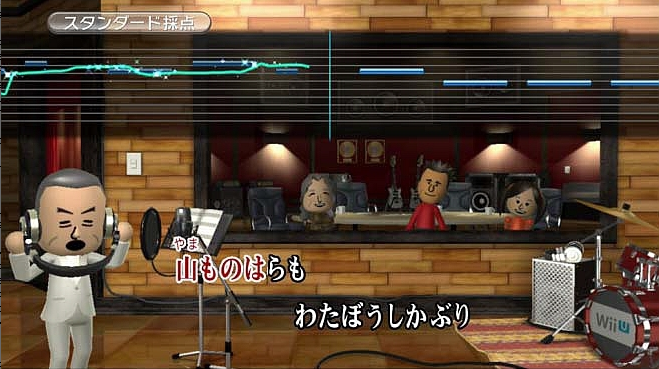 Perhaps one of the most intriguing features of the game is the ability to compete with other Wii Karaoke U users across Japan. While you can just opt to have your performance analyzed for the sake of improving on songs, the online competitive feature is so much more compelling. The only irritating thing is that you have to activate this mode (as well as the point analysis and standard point modes) before every session. Despite that, these options work extremely well and even make singing by yourself fun. Currently, I am number one in all of Japan for a few songs and am working my way up the list on a few others. Sure, nobody else tried to sing and score the songs that I'm at the top of, but I'll take my victories whatever way I can get them!
Wii Karaoke U is a great addition to the Wii U experience. The GamePad functions in the same manner as the karaoke controllers found in karaoke boxes across the country and will be extremely familiar to many. With tons of options for adjusting the microphone and song pace, and the ability to see where you rank against others across the country, the game is absorbing and should keep people coming back for more.