This game is a tightly wound bundle of game theory, eclectic soundscapes, and smuggled blood diamonds.
A funny thing happened when I played a preview build of the upcoming DS game Diamond Trust of London. I only thought about the repercussions of my actions after the game had ended. Of course, there's no getting around the dark themes of a game that you win by smuggling blood diamonds out of war-torn Angola. But when bribery, corruption, and deceit are as integral to the game mechanics as they are in this game, you drop your defenses and don't think about what you're doing: you just lie, cheat, and steal your way to victory without batting an eye.
Diamond Trust of London is a turn-based strategy game, perhaps best thought-of as a competitive diamond-smuggling sim. The game proceeds in distinct phases that are resolved simultaneously between the two competing players, meaning that when you send an agent to bid on some diamonds, you don't know what price your opponent is bidding at, or even if your opponent will be there at all (in which case you'll win the diamonds, but have most likely overbid!). It's a game of imperfect knowledge, and both players are trying to outguess the other based on incomplete data.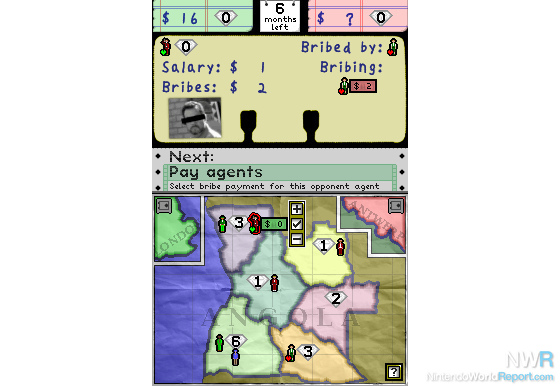 In fact, you're not only blindly bidding against each other on diamonds, you're blindly bidding for the loyalty of your own agents (salary vs. bribes) since bribed agents offer sneak peaks into your opponents plans. You can also try to buy control of the corrupt UN inspection agent for a turn since they can stop diamond sales from taking place as well as confiscate any smuggled diamonds in the same region. You even take risks when selling diamonds on the international market to raise funds since both players flooding the market actually results in less income overall.
Diamond Trust of London is like a giant example of game-theory where every move you make could be undone if your opponent gets wind of it, and vice versa. The battle of the minds only ends after nine game rounds when the player with the most diamonds wins.
Unfortunately, I only got to play single-player with an AI as my opponent, so I didn't get the full experience of trying to out-think another human being via local wireless or single-card download play. However, I can only imagine that that's how the game was meant to be played since it would probably make for much more visceral pangs of doubt and betrayal when you can see the face of your opponent. Still, the AI is adequate to learn the game against. I beat the level 2 AI easily, but I definitely had to be more careful against the level 10 AI. Harder AI levels were available on the preview build I had, but the higher the AI level the longer players need to wait for the computer to take its turn.
One final mention has to be made for Diamond Trust of London's musical approach, which is to always dynamically combine and recombine a wonderfully eclectic mix of synthetic beats, human chanting, real instrument recordings, and more. The end result is not so much a soundtrack as it is a constantly evolving ambient soundscape for the game, and it's definitely worth having headphones for. In fact, the game even has a special mode where you can keep listening to the dynamic music while the cover of the DS is closed, a feature I made ample use of while writing this article.
A preview build of Diamond Trust of London was provided by its developer Jason Rohrer. The indie game is being funded on Kickstarter. Jason needs to raise $78,715 by May 26 to have the cartridges manufactured, and he is currently very close to the goal. If this game sounds interesting to you, head over to Kickstarter soon to back the game and help put it over the top.