A most unique physics-based puzzler rolls onto 3DS.
NightSky is a more experimental indie title featuring physics-based gameplay in an unconventional puzzle-platformer with a focus on controlling momentum. Originally meant to debut on WiiWare, the title never arrived on that platform, but did release on Windows, Mac, and Linux. The 3DS version I saw was still early, so it wasn't up to the PC's polish, but the game was mostly operational. Also missing was the 3DS's stereoscopic 3D effects; the game's environment will be split onto four planes.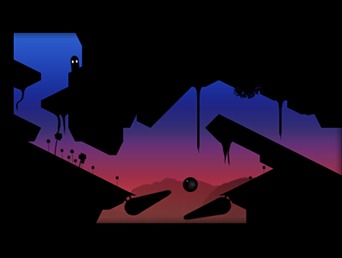 In NightSky, players take control of an orb and must guide it to the exit, overcoming a variety of obstacles. The sphere is controlled using the Circle Pad or D-Pad, and the buttons are used to activate powers such as increased rotational momentum, anti-gravity, and sticking in place with friction. Each sub-level has different abilities that can be used. The bottom screen may be used to show the availability of powers, though that feature wasn't added yet. Each level features various obstacles, from simple boxes and wheels, to more complicated platforms connected to chains, machines, and even pinball bumpers. Overcoming these obstacles may require activating your special powers with precision timing (and in some levels, you may not even get to control the ball directly). If you get stuck, you can restart the area as much as you like.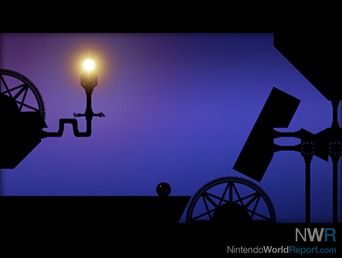 The game features a relaxed, ambient soundtrack and the visuals are primarily silhouettes (think Limbo or the Donkey Kong Country Returns sunset level). Altogether, the experience is quite atmospheric and unique, a change from the usual frenetic indie platformers.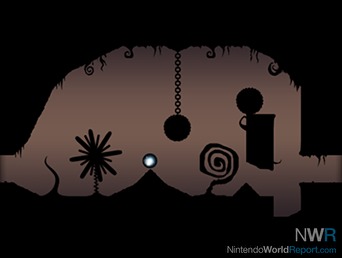 NightSky is an unusual title that should appeal to a wide audience with its addictive must-try-again design. Its understated nature makes the game feel almost like interactive modern artwork even though there's an increasingly devious physics-based puzzle underneath. The game is scheduled to arrive on the 3DS eShop in Q1 2012, but if you want to try the game out now, the newly released HD version is currently part of the excellent Humble Indie Bundle 4 or you can try the demo.