You've chopped wood and joined the circus, now go play sports!
I played the next title in Majesco's Go Play line recently. The game, Go Play City Sports, is a lot broader than the first two games in the series, Lumberjacks and Circus Star, which suffered from a lack of variety.
City Sports is offering six different city sports: stickball, kickball, street hockey, jump rope, handball, and shootout soccer. For this demo, only stickball and street hockey were available for play.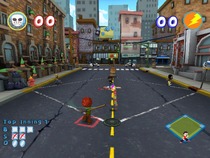 Stickball compares favorably to most Wii baseball titles, and offers a similar control style wherein the Wii Remote's motions are responsible for hitting, pitching, and fielding. It's genuinely fun, and the city touches make the game a lot better. The bases are trash can lids and the like, and home plate is a manhole cover. There are also city rules for this sport. For example, if the ball bounces off the buildings that line the field, it's still in play. During the demo, I robbed my opponent of a home run because the ball ricocheted off the wall and into my player's glove. Unfortunately, I also gave up a home run because the ball bounced off the wall and became a four-bagger.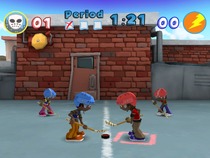 The street hockey, which takes place on a roof, was very reminiscent of a similar sport in Deca Sports 2, except better. My main issue with Deca Sports 2 was that almost every shot on goal went in, but City Sports doesn't do that, and it doesn't even have a goalie. Instead of a goaltender, there is just a large cone that sits in goal, waiting for players to slap the puck at it, hit it out of the way, and score. It makes the game a lot more fast-paced and more of a war of attrition. It controls well, making use of both the Wii Remote and Nunchuk with motions controlling the strength of the shot.
Like the two earlier games in the Go Play brand, Go Play City Sports also seems to have a good personality and sense of humor. The different teams that you can choose range from robots to rabbits, and the characters are cartoony. It's a nice aesthetic, and hopefully the finished product will be a good, full-featured sports collection when it launches next week.
Check below for gameplay videos of three of the other sports: handball, jump rope, and kickball.