What's old is new again.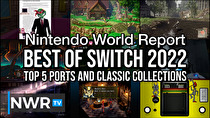 While not an entirely new experience, a good port or collection of classic games can make an old game feel fresh. From ports that enhance performance through bumps to frame rate and resolution, to collections that highlight the storied history of a series or developer. These awards go to five games that we believe to be the best of the old brought to the new.
5. 13 Sentinels: Aegis Rim - Matt Zawodniak
13 Sentinels: Aegis Rim is a game that defies explanation, partially because it's so difficult to describe the game without giving away too much of its story. Fans often urge new players to go in knowing as little as possible, and that's because so much of what makes the game unique is the depth and complexity of its narrative revelations. No game has ever surprised me and caught me off guard quite as much as 13 Sentinels, and it's a miracle that everything comes together in a way that's actually coherent and satisfying. But this isn't just a great game with a competent port; the Switch version of 13 Sentinels may actually be closer to its original vision than its initial launch on PS4. 13 Sentinels was originally planned for the PlayStation Vita, but that version of the game was canceled shortly after Sony announced the platform would be discontinued. This makes the Switch version feel like the version of 13 Sentinels that was always meant to be, and handheld play is perfect way to experience this beloved cult classic.
4. Portal Collection - John Rairdin
It should come as no surprise that the Nintendo Switch is perfectly capable of running games from 2007 and 2011. With that in mind it takes more than a bare bones port to get games from this generation on our list. But outside of playing on a high end PC with the recent RTX update, Portal and Portal 2 on Nintendo Switch might just be the best way to play these two incredible games. From improved performance and image quality over the original releases, to new motion control support, it's hard to overstate how gracefully these games have made the transition to Switch. Resolution has been upgraded to a full 1080p docked and 720p handheld on both games and the frame rate has been doubled from 30fps up to 60fps. They also represent the first appearance of Valve's Source Engine on the platform, and hint at the possibilities of the future. More than ten years later Portal and its sequel remain some of the best puzzle games ever developed. Their endearing writing, tongue-in-cheek story, and ingenious variety of puzzles have allowed them to move effortlessly through time, showing very little age. The segmented test chamber design of each game makes them perfect for play on the go, and they are a surprisingly natural fit in the Switch library.
3. TMNT: Cowabunga Collection - Neal Ronaghan
Developer Digital Eclipse has spent the better part of the past decade refining the retro video game collection across Capcom classics such as Mega Man and Street Fighter and SNK gems such as Samurai Shodown and Crystalis. Their work with Capcom also led to the modern revival of Disney-licensed games including DuckTales and Aladdin, offering an enticing view into a world where Digital Eclipse was allowed to crack into more vaults to bring back and memorialize the licensed works of the '80s and '90s. That world might be getting realized as Digital Eclipse worked with Konami and Nickelodeon on the Teenage Mutant Ninja Turtles: Cowabunga Collection, featuring 13 games across the NES, Super Nintendo, Genesis, Game Boy, and arcades. The Teenage Mutant Ninja Turtles: Cowabunga Collection is one of the best retro packages I've ever played, providing a nearly definitive encapsulation of the Turtles games of the era while also presenting them in the best way possible. You can play them roughly as they were when they came out or make use of the enhancements and rewind functionality to get through hard spots. Or maybe you just want to watch a playthrough of Hyperstone Heist just because. Cowabunga Collection presents so many ways to experience the Turtles games of the '80s and '90s, making it enjoyable for anyone who has any interest in the Turtles or their video game exploits. This truly is radical.
2. NieR Automata - Matt Zawodniak
NieR Automata's announcement for Switch was both exciting and worrying. Its release in 2017, sandwiched between the heavy-hitters of Breath of the Wild and Persona 5, was widely acclaimed and managed to vastly outsell its cult classic predecessor. Its fluid combat made by Platinum Games combined with the bizarre yet earnest writing of Yoko Taro made for a game so beloved by fans that it's still receiving spin-offs and crossover appearances to this day; most recently making a strange appearance in Tom Clancy's Rainbow Six Siege. But the real surprise when it was released on Switch this year was how it made the transition to a handheld form on Switch so well. In an era where even Nintendo's own franchises are struggling with performance, NieR Automata held its own as one of the Switch's miracle ports, often compared to the likes of Doom and The Witcher 3. NieR Automata was one of the best games ever made in 2017, and it's one of the best Switch ports ever made in 2022.
1. Atari 50: the Anniversary Celebration - John Rairdin
Collections of Atari games are nothing new, and many of these games are already available in other formats on Nintendo Switch. But the fact that another Digital Eclipse collection has already been highlighted in this list should make it immediately evident why this particular collection of Atari games is so special. This isn't just a way to play old games, this is an interactive documentary, a digital museum, a way of experiencing games on a deeper level than just playing them. Through a series of archival videos, photos, and brand new interviews, players learn the stories behind the games. The library itself spans all the way from Atari's arcade origins to the Jaguar and Lynx (systems often left off other collections). Each games controls have been fine tuned to adapt to a modern controller offering brand new functionalities such as radial menus to smooth out interactions. Digital Eclipse has even created a few entirely new experiences such as completing the legendary fourth Swordquest game, thus completing the long unfinished series. Haunted House has been remade in 3D, though you'll still just play as a pair of floating eyeballs. A variety of Atari's vector based games are reworked into a single, constantly changing, high score game. Even something as simple as breakout get a brand new adaptation exclusive to this release. In Digital Eclipse's expansive and endlessly impressive library of retro collections, Atari 50: The Anniversary Celebration stands as their best work to date.
Honorable Mentions
No Man's Sky
Live a Live
Chrono Cross
ARK: Ultimate Survivor Edition (Grove Street Games Port)
KLONOA Phantasy Reverie Series
To be considered a port the original release on another platform must have occurred outside of 2022.