Justin checks out a Switch travel solution from RDS Industries.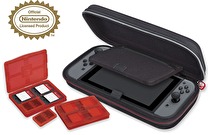 Let's face it. You may be able to play the Nintendo Switch anywhere, but it's too large to safely stuff in your pocket. Because of this, many players will be looking for a way to safely carry their new expensive console around for playing on the go. I looked at many different carrying case choices online before deciding to try out the Game Traveler Deluxe Travel Case by RDS Industries.
The exterior of the case has a thin fabric layer but it is a hard shell case underneath helping to insure the protection of the console within. Right in the center is a small rubber Nintendo Switch logo. A Switch logo is even used as the zipper!
One thing that drew me to this case is the fact that it includes a handle for easier transport. The handle will get the job done, but I do not like the soft rubber that is used to make it more comfortable. It looks as though it will pick up some dirt and grime, and I feel a harder rubber around the handle would have been a better choice. This is a very minor complaint though.
Upon opening the case you'll notice a zippered pouch that serves two purposes. First, you can store some items within such as ear buds and some Joy-Con wrist straps. Second, this layer will serve to cover the screen of the Switch for extra protection. The bottom part of this pouch seems to have some extra harder padding on it to ensure items left in the pouch have a less direct impact on the screen that will be housed below.
I was a bit worried, based on stock photos for the product, that the zipper on the pouch would hang off and scratch some part of the Switch or Joy-Con. But luckily it was made short enough so that won't happen.
Under the flap I found the biggest surprise of all. A feature I didn't see advertised in any online description of the product. There are deeper impressions cut out of the bottom to hold two Switch Game Card cases . Yes, I knew the product came with these cases, but assumed I was supposed to stuff them in the previously mentioned pouch. Having these special slots for them gives the case even more space to work with. There is also a third long indent, but I'm not sure of its purpose. A Joy-Con wrist strap won't fit nicely, so I've stuffed a small microfiber cloth in that slot.
The two included Game Card cases are nice and can hold four games each. With a game inside the Switch already you could be hauling around nine physical games. I like these plastic cases for games more than having fabric and elastic holders often found in other cases because the games usually seem to slide out of the more traditional game holders.
Inside each Game Card case is a smaller optional use case that can take up one Switch Game Card slot. These smaller cases can hold two Micro SD cards each. This option is nice, but I find it a bit pointless. Will people really be using more than one Micro SD card with their Switch?
The Switch itself fits snugly into the bottom of the case and there are even indents for the Joy-Con to fit properly. There is also a velcro strap that helps hold the screen cover flap down too. Don't worry though, the part of the velcro that could come into contact with the screen is the soft side.
One weird negative to all this is that the inside of the case seems to have a weird smell to it. This smell hasn't transferred to anything left inside it, and it is getting weaker. But you'll probably notice it.
When packed up with everything (included case accessories, Switch, ear bud headphones, two Wrist Straps, and a cleaning cloth), the Game Traveler Deluxe Travel Case is very snug. Everything inside appears to be secure.
Overall I'm very happy with the Game Traveler Deluxe Travel Case and it gets my full recommendation. It also comes in some different Zelda themed styles, but the one reviewed here was the generic black version. There is room for improvement, but this case will likely be my go-to for years to come.
(Check out more pictures of the product below!)