Yes, it's that time of year again. Come join us as we try to guess the future.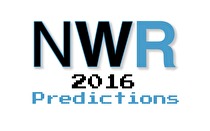 January marks the start of a new year and that means it's once again time to continue one of our long running traditions. That's right, it's time for the NWR Staff to predict what Nintendo will do throughout the year.
This year promises to be exciting for Nintendo fans since we will be learning about the NX. However, we still don't know exactly what the NX will be. So join us as we try to predict what one of the most unpredictable entertainment companies in history will do throughout the year.
Oh yeah, and once you read through our predictions make sure to let us know what you think in the Talkback section below while sharing your own crazy predictions on Nintendo's future.