From 2005 to 2014, Nintendo released a lot of games from September to December. What years were the best?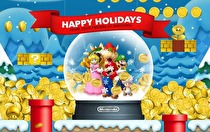 With the delays of The Legend of Zelda and Star Fox Zero to 2016 and the apparent dumpster fire that is Mario Tennis: Ultra Smash, Nintendo's holiday lineup this year appears very weak. That got me thinking: where does this year's slate compare to recent Nintendo holiday lineups? Is 2015 truly that bad of a year? Or are we just spoiled? Using a highly advanced scoring system (aka I listed out each game released from September to December in the past 10 years and stared at them blankly for like 45 minutes), I ranked Nintendo's holiday seasons from 2005 to 2014. Over the next few pages, I'm going to list out each year in descending order and explain why each year is where it is. At the end, I'll make my call as to where I think 2015 will slot in when all is said and done.
Just a note: I'm not factoring in sales figures at all (or else the Wii years would be at the top and everything else would be light years behind). This list is also, as most lists are, totally subjective. I'm probably going to not give a game you dug the respect you think it deserves. Consequently, I'll probably give a game more love than you think it deserves. This is all in good fun and I love you all. Now let's go start on that one holiday season that everyone knows sucked: 2008.