Come see how poorly the staff did with their E3 predictions in May. Will some finally come true next month?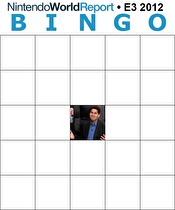 We here at NWR are "glass half full" kinds of people. So while we all did horribly on our E3 2012 Bingo cards, rest assured we are finding the silver lining! (Maybe it would have been betting if we scored it like golf?)
Anyway, just because we were wrong in May, doesn't mean these predictions won't eventually come true, right?!
In fact next month (September 13) at the Wii U press event, we're set to learn a lot more about the system and its games - time to get hyped all over again!