Kirby's early beginnings are highlighted.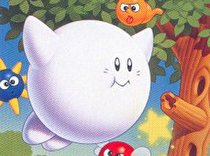 Kirby's early years saw Kirby switch back and forth between handhelds and game consoles. With each new release, ideas would be implemented, a lot of them becoming staples of the franchise. The first five games in Kirby's career are as follows:
Name: Kirby's Dream Land
System: Game Boy
Release Date: August 1992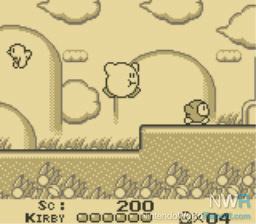 What is it?
Kirby's debut! This game was released on Game Boy in 1992, starring a young puff ball named Kirby on a mission to stop the greedy and self-proclaimed king, DeDeDe, who stole all the food in Dream Land for himself. With only five levels, it can be finished in a matter of minutes, but it's clean, simple fun that paved the way for many future titles. In this game, Kirby can fly and inhale, swallow or spit out enemies, but his Copy ability was not introduced until Kirby's Adventure on NES, and has since remained a staple of Kirby series game play.
Will it make the Kirby Collection?
It's possible as this was the first game to ever star Kirby – however the 8-bit graphics and two-tone color scheme may require an overhaul. Perhaps a full color version with updated graphics similar to what was seen in Kirby Super Star on the SNES may be in the works. Outside of that somewhat remote possibility, there might be nothing more than a nod to the fact that the game is out on the 3DS Virtual Console.
Name: Kirby's Adventure
System: NES
Release Date: May 1, 1993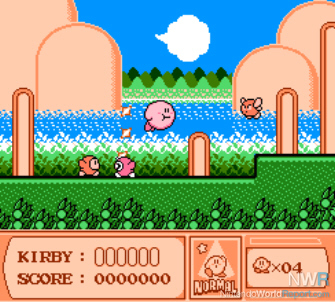 What is it?
Kirby's second adventure and first one on a Nintendo console, Kirby's Adventure took all the elements present in the Game Boy game and refined them into the Kirby gameplay that is still present to this day. For the first time ever, Kirby could inhale his enemies and absorb their powers to use against them. The game was also much longer than its Game Boy predecessor and also gave Kirby his official color: pink. Despite being released somewhat late into the NES's lifetime, it still managed to attract enough of a following to keep the series going strong.
Will it make the Kirby Collection?
The chances are very high for this one as it is the game that gave the Kirby franchise its own identity in the Nintendo canon, much like Super Mario Bros for the NES did for Mario. It would be silly of Nintendo to exclude the one Kirby game that gave the character and his world a presence and a legacy that continues to this day. The game also has been re-released many times throughout the years, including a recent 3D Classics version on the Nintendo 3DS. So long story short, it will likely be in the collection.
Name: Kirby's Dream Land 2
System: Game Boy
Release Date: May 1, 1995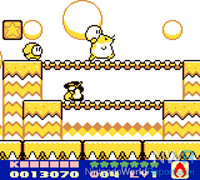 What is it?
Kirby returns to the system that saw his birth, the Game Boy. This time around, Kirby is joined by various animal friends that will make his journey a memorable one.
Will it make the Kirby Collection?
Much like its predecessor, it being a handheld game means that it might be difficult to properly translate to a console game. They could completely remake it for the sake of completion, but the chances of making an appearance are somewhat low.
Name: Kirby Super Star
System: Super NES
Release Date: September 20, 1996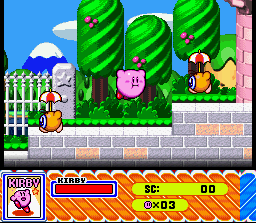 What is it?
One of Kirby's most popular games to date, Kirby Super Star places the pink puff into nine different games that take the classic Kirby gameplay and twist it around to meet different gameplay objectives. For example, The Great Cave Offensive serves as a treasure hunt around a cave, while Spring Breeze is a remake of the first Game Boy game.
Will it make the Kirby Collection?
Kirby Super Star is constantly regarded as one of the best Kirby games in the series, as well as one of the most beloved in the Super Nintendo lineup. The game has been referenced on other games such as Super Smash Bros and further polished the Kirby gameplay while maintaining a sense of variety and creativity throughout the package. Much like Kirby's Adventure, it has received a DS release as well as a Virtual Console release, so the chances of this game making an appearance on the Kirby collection are quite high.
Name: Kirby's Dream Land 3
System: Super NES
Release Date: November 27, 1997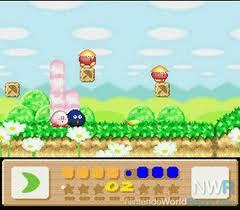 What is it?
The first Dream Land game to make it to home consoles after two Game Boy outings. Dream Land 3 featured the return of Dark Matter, as well as his animal friends and Gooey, who were first introduced in the previous game. The entire game was presented in an adorable chalkboard drawing style and offered a much longer and harder quest than anything in the series before it.
Will it make the Kirby Collection?
Very likely. While not one of the series favorites, Kirby's Dream Land 3 is a pretty game that features examples of pretty much everything the series has to offer. It's cute, has a decent amount of content and will certainly fit on a Wii disc while leaving plenty of room for other games in the collection.