The staff reminisce about their Christmas presents in a way that would make Ralphie green with envy!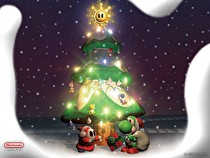 HAPPY HOLIDAYS EVERYONE!
Christmas is just a few days away, and our Jewish friends are celebrating their nights of Hanukkah. Malls are overflowing with last minute shoppers, children are dreaming of Santa's arrival and everyone has been swept by the warm feelings of the holidays, including our staff members at Nintendo World Report. We gathered around the Christmas tree and decided to reminisce about Christmas past.
Or, to be more specific, we asked each other the following...
What was the best Nintendo-themed Christmas/Holiday present you have ever received?
And the answers we gave were as follows...
Neal "Jacob Marley" Ronaghan said...
"Game Boy with SML2 - my first Nintendo system"
Carmine "Bob Cratchit" Red said...
"A Game Gear. I was never naughty again."

Zach "Ebenezer Scrooge" Miller said...
"On my 8th birthday, which is close to Christmas, I got a Game Boy, Super Mario Land, Tetris, and Castlevania. I basically wet myself."
Josh "Ghost of Christmas Past" Max said...
"When my future wife give me a real life Pokemon."
J.P. "Nephew Fred" Corbran said...
"There were a couple ways I could have gone with this, but I'll say "a GameCube with Pikmin, Rogue Leader and Luigi's Mansion."
James "Tiny Tim" Dawson said...
"When I got my original glacier blue Game Boy Advance."
Pedro "Ghost of Christmas Present" Hernandez said...
"Definitely a tie between the Nintendo 64 and The Legend of Zelda: Ocarina of Time."

Andrew "Fezziwig" Brown said...
"A SNES with Mario All-Stars. It was the beginning of everything."
Nicholas "Fan" Bray said...
"When I got Mario Kart: Super Circuit & Golden Sun."
Nate "Ghost of Christmas Yet to Come" Andrews said...
"Pokemon Red Version, which I played well into the morning."
Patrick "Belle" Barnett said...
"Gameboy Color with Pokemon Pinball, I still play that game."
Matt "Little Boy that gets Scrooge a Goose" Walker said...
"My NES. It was the beginning of my obsession."
Andy "Man that asks Scrooge for money for the poor #1" Goergen said...
"The NES Deluxe Set, which came with R.O.B. & Gyromite, and the Zapper with Duck Hunt. On top of that, I got Baseball and Super Mario Bros. on the side."
Danny "Man that asks Scrooge for money for the poor #2" Bivens said...
"Ocarina of Time, Pokémon Red, Rogue Squadron, WCW/NWO Revenge Christmas 1998!"
Minoru "Man that steals Scrooge's pajamas after he dies" Yamaizumi said...
"As many as 10 GBA games (for ambassadors)."
And yes, we are aware many of us broke the 10 word rule... but lighten up, it's Christmas!