A series of Mario-related comics about the flipside of the Bros.' world.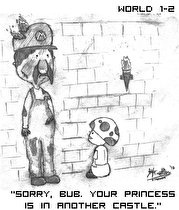 Updated every Friday is Alexandre Trottier's comic about Mario and friends. Titled "The Other Side of the Flagpole," it illuminates Mario, his friends, and his enemies.
Let us know what you think in the comments, and keep checking in to see when the next comic goes up.