The Earth users burrow and make stuff come out from the ground.
Prism Break, Bash, and Terrafin are the three Earth characters available now, though Terrafin is only available in the Pirate Seas Adventure Pack. Bash also comes in legendary form.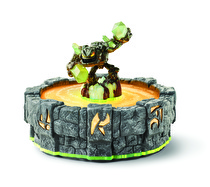 Prism Break
Type: Earth
How to get: Individual, 3-Pack (w/ Boomer and Voodood)
Variations: None
Abilities: Energy Beams, Shard Summon
Prism Break looks a lot different than he actually plays. You'd think, since he's a pile of rocks, he'd be a bruiser with strong melee attacks. Instead, he has ranged energy beams that can be shot in different directions by bringing up shards of crystal from the ground. These shards can also damage enemies.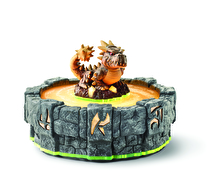 Bash
Type: Earth
How to get: Individual, 3-Pack (w/ Eruptor and Chop Chop), Legendary 3-Pack (w/ L. Chop Chop, L. Spyro)
Variations: Legendary Bash, Iridescent Blue Bash (Toys R Us Exclusive)
Abilities: Tail Swipe, Rock Roll
Bash is a dragon who can't fly, but he can, well, bash. He swings his tail and rolls around as a ball to attack enemies. He can also summon pillars of earth to damage foes.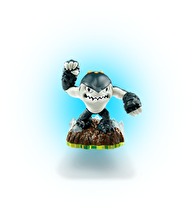 Terrafin
Type: Earth
How to get: Pirate Seas Adventure Pack
Variations: None
Abilities: Shark Punch, Earth Swim
At first glance, Terrafin seems like he should be a Water user. However, he's a burrowing dirt shark. He's primarily a melee fighter, as he uses powerful punches and belly flops to great effect.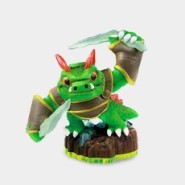 Dino-Rang
Type: Earth
How to get: Individual (Wave 2), 3-Pack (w/ Zap and Hex)
Variations: Silver Dino-Rang
Abilities: N/A
Dino-Rang is a dinosaur who wields boomerangs, which when you break it down, is pretty self-explanatory.