The eShop is on summer vacation in Japan.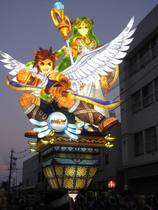 Shockingly, the eShop in Japan this week has received absolutely no new content this week. As disappointing as that is, it is likely due to the summer holiday known as Obon in Japan. This is the time of year where many businesses and shops close down for a few days to take a much needed break. Regardless, there still are a few things to talk about when it comes to online content from the Big N on the 3DS in Japan.
Software Impressions
Of course, the video applications (Itsu no Ma ni Terebi and Nintendo Video) have received updates. One thing that I totally overlooked last week was the inclusion of a video covering a Neputa Matsuri in Aomori prefecture, Japan. For those of you unfamiliar with these matsuri (festival in English), the Neputa Matsuri in Aomori prefecture feature huge floats that are pushed and paraded down the street. Many of them are lighted on the inside and can stand nearly as tall as a building. Usually, the Neputa are of historic figures, samurai, birds or beasts, however, some designs are more modern in nature, featuring popular animé characters, for example. This year, a Nintendo-related float was created for the festival. This particular float was designed after the upcoming title, Kid Icarus: Uprising, and highlights Pit and the goddess Palutena. The streaming 3D video on Nintendo Video showcases the Kid Icarus float, musicians, and other floats in the parade. The Kid Icarus float was viewable from August 4 to 6 in Goshogawara, Aomori prefecture.
Trade and Batte: Card Hero was released last week on the Virtual Console in Japan. If you couldn't tell from the game's title, this is a card-battling RPG that puts you in the role of an 11-year-old boy who is ready to take names and kick some butt. Originally released in 2000 on the Game Boy Color, Card Hero was developed in conjunction by Nintendo and Intelligent Systems. I was able to put a little bit of time into the Card Hero this week and have walked away impressed by what I've played. It is very reminiscent of Pokémon visually, though the battle system is slightly different. The main objective of each battle is to defeat your opponent's Master Card. This is easier said than done, as the player also has to worry about his opponent's monsters as well. Each player has Stones that are used to play the cards. Cards are either monsters, super monsters or some kind of a magic card (they can recover HP, damage your opponent's cards, etc.). If you defeat your opponent's master card, you win the battle.
Card Hero is an awesome game that will more than likely never see the light of day outside of Japan. For those of you who have access to the Japan eShop and can at least read hiragana and katakana, Card Hero would be a great way to practice and put your Japanese to some practical use.