TwinBee, Card Hero, and a new Game Center CX appear this week.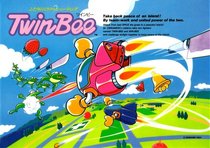 For the third week in a row, 3DS owners are treated to a variety of titles and content to choose from on the eShop in Japan. Let's cut to the chase and get right to it:
3D Classics
TwinBee – 600 yen
3DS Downloadable Titles
ARC STYLE: Jazzy BILLIARDS 3D Professional – 500 yen
VectorRacing – 500 yen
Virtual Console
Trade & Battle: Card Hero (Game Boy Color) – 600 yen
Video Content
There isn't a ton of new video content on the Japan eShop this week. However, a few new pieces did manage to show up to keep things a interesting. Game Center CX returns in an extremely short streaming 3D video, which basically has the host just shooting things at the camera in an effort to utilize the 3D effect to wow users. There is also a new collection of three commercials for Ocarina of Time 3D (in 2D, though) featuring Shoko Nakagawa (you may remember her from last week). Basically, she talks about shard of agony implementation in the game, how handsome she thinks adult Link is, and about how creepy the game can be for young kids.
Nintendo Video saw an update late last week after the Kyoto tour video was removed. This time around, Japanese 3DS owners have a chance to watch the White Knuckles music video from OK Go that was released earlier in the year in North America. Over the weekend, a new Tokyo Girls Collection video showed up on the application as well. And of course, Itsu no Ma ni Terebi is daily providing video content for interested users.
Software Impressions
This week, I bought TwinBee and Card Hero, but have only had time to sink my teeth into TwinBee at the moment. It is very similar to Xevious (in looks and controls) but with a slightly more modern, updated feel to it. In TwinBee, you can shoot both your regular laser as well as drop bombs on the ground below, just as you can in Xevious. This time around, though, there are "bells" that are hiding in the clouds that you can shoot and keep air born and collect for points. The longer they are in the air, the more points you will get if you can nab them. The 3D effect in the game, while not as distinct as the three "levels" you can find in Xevious, is still very well done and fits the game well. Is it worth 600 yen? If you're a fan of shooters, I would say that TwinBee tops the only other 3D Classic competitor, Xevious.
I plan on delving into Card Hero as the week progresses and am also thinking about picking up the Nazo Waku Yakata demo, VectorRacing, or both.