The eShop gets two new Virtual Console games and more video content in Japan.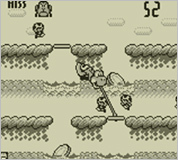 It has been a busy week for Nintendo in Japan. Not only have they launched their exclusive 3D video content application on the Nintendo 3DS, they have also updated the shop with two Virtual Console titles as well as videos for upcoming 3DS and Wii titles. Here's what Japanese gamers got this week:
Virtual Console
Double Dragon – 400 yen
Game Boy Gallery (Game and Watch Gallery in the US and Europe) – 400 yen
Video Content
Nintendo started the week by launching the Itsu no Ma ni Terebi (SpotPass TV) this past Tuesday. The application for the service takes a little bit of time to download, as do the the episodes initially, however, this really showcases what SpotPass on the 3DS can do. For example, when I came home from work today and picked up my 3DS (which had been sitting in my apartment all day with Wi-Fi access), I noticed the notification on the Itsu no Ma ni Terebi application and immediately went in to see what the new episodes were.
The episodes themselves typically run about two minutes and thirty seconds long, with a thirty second commercial nestled somewhere in the video. Everything is completely in 3D, even the commercials. The 3D effect works pretty well in most of the content as well. For example, in today's episode showcasing various works at the Hakone Open Air Museum, there was a focus on sculptures. The camera angles coupled with the 3D worked perfectly to immerse you into the experience and make it seem that you are right there at the museum.
This week, a few new streaming 3D and 2D videos were added as well. The upcoming 3DS title from Bandai-Namco, Tales of the Abyss had three new streaming trailers, one of which is in 3D. A new four-minute 2D streaming Star Fox 64 3D trailer also arrived showing the different control methods and other various aspects of the game. Last, but not least, gearing up for the upcoming release of Wii Rimokon Plus Variety Pack (Wii Play: Motion), Nintendo released two new 2D trailers of the upcoming title which is set to release in Japan on July 7.
Software Impressions
As of right now, I have not purchased any of the Virtual Console games this week mainly due to the abundance of videos available on the eShop. Nintendo is constantly updating the content and helping to deliver new and unique content to 3DS owners every week. When it's all said and done, the video content probably won't blow you away, but it is interesting and great to see Nintendo giving this unique content to gamers for free.