Uuuh, this guy reminds me of someone...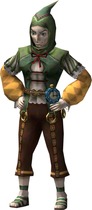 So there's this guy named Purlo who closely resembles
Tingle from earlier Zelda games, but he's not quite as
Antisocial as Tingle, rather than chasing down fairies he
Rips off unsuspecting passersby in his difficult game of chance.
Purlo appears in the Hyrule Castle Town of Twilight Princess, running a his STAR game - a kind of caged contest in which players fortunate enough to own a Clawshot can zip around collecting colorful, glowing orbs. Overconfident that nobody could possibly outperform his devised attraction, he cheerfully boasts that anyone who completes his game in the allocated time will win upgrades to their quiver. His character is brimming with showmanship, though he secretly plots to scam the town of their money with his unwinnable game. So incredulous is he when Link completes his task, that he takes it quite personally and challenges him to a second round, devising a much more difficult version featuring a spiked floor. Evil!
Whenever Link manages to best him at his own game, Purlo can't help but mutter under his breath in discontent, making him quite possibly one of the most two-faced charlatans that Link has had to deal with.
His clothing design seems to suggest that he was a more realistic adaption of Tingle, and he features his own quirky list of mannerisms and dramatic poses. He loves to give instructions for his collecting game in the form of lines of prose, the first letter of each spelling STAR, hence the name of his game.
Oddly enough, Purlo is considered handsome enough to attract a small legion of fangirls who linger around his tent, though (much to his dismay, I'm sure) their attention is quickly stolen by Link, who also theatrically steals the show – and eventually Purlo's money.