Our three-headed monsters of Japan Correspondents observed and participated in the 3DS launch in Japan. Read their musings.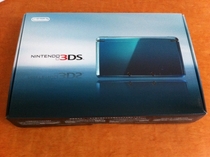 On February 26, the 3DS launched in Japan. Our Japan Correspondents, Danny Bivens, James Charlton, and Matt Walker, witnessed the launch, took pictures, unboxed the system, and more. Check out the next few pages to see all of the action straight from the Far East.
Also, salivate at the prospect of the system coming to your region in the next month, and be very jealous over the fact that they get the new Professor Layton game potentially years before you do.