He is the mustard of your doom.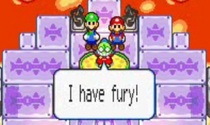 One the many things that makes the Mario & Luigi series so much better than those silly Paper Mario games is the cast of characters. The supporting characters are full of personality of life. Perhaps the series' most memorable weirdo has been Fawful, the sidekick villain of Superstar Saga and the main antagonist of Bowser's Inside Story. This miniscule Beanish baddie steals every scene he's in, whether the odds are in his favor or not. Spouting wonderful lines such as "All who resist will be beat like naughty little eggs!" he's hard to ignore and easy to love.
Like a dark, fury-flavored tea, Fawful's origins are steeped in mystery. He first appeared in Superstar Saga as the enthusiastic sidekick of Cackletta, a sorceress who was trying to capture the legendary Bean Star and use it for her own nefarious purposes. Despite being height-challenged, Fawful proved himself a worthy combatant with his hoverpad and vacuum hat. His battle cry "I HAVE FURY!" would come to be well-known. The Bros. defeat Fawful handily, of course, and then knock out Cackletta. Before perishing, however, Cackletta's essence is sucked up by her trusty minion's vacuum hat whereafter it is transferred to the body of Bowser, creating Bowletta. After taking over Bowser's Castle, Fawful becomes considerably more powerful, but his theatrics ultimately cause his own defeat. Thinking himself secure in an "impenetrable" shell, Fawful is shocked to discover that metal is an excellent conductor of heat. After absorbing several shots from Mario's fireballs, the shell turns bright red, and Fawful is forced out: "Ouch! Hotness! It is the overheat!" he yells.
After this, the Bros. again knock him back to the stone age, then go on to defeat Cackletta for good. Fawful is all but absent in Partners in Time, though he does turn up in the Mushroom Kingdom sewers, running a badge shop. The Baby Bros. encounter him and, while they are not recognized as younger versions of Fawful's arch-enemies, they do cause Fawful to go on a fury-fueled monologue, in which he threatens to come back and create a world where "no baby's candy will have safety." And in 2009, he did.
Hoping to summon the power of the Dark Star, Fawful reappears in Bowser's Inside Story as the headline villain. He gives the inhabitants of the Mushroom Kingdom a case of "The Blorbs," takes over Peach's Castle (and puts on plays within), and kidnaps Princess Peach. With the help of his own burly sidekick, Midbus, as well as an impressive array of security measures in and around the castle, Fawful successfully avoids direct confrontation with the Bros. or Bowser until he awakens the power of the Dark Star. "I have...DARKNESS," he cackles. Of course, as usual, it doesn't take much to defeat little Fawful, but his corrupting influence leads to Bowser having to defeat a dark version of himself while the Bros. go after Fawful's essence - much like the final fight with Cackletta in Superstar Saga.
Fawful is certainly one of the Mario games' most memorable villains, both for his enthusiasm as well as his fury.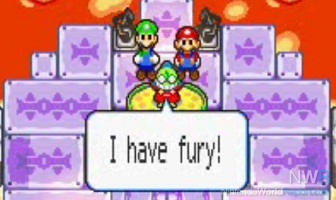 He does, but it's not going to help much.