Full text of
In daily reports that I received from various staff members who were at E3, there were things like, "Feedback on the Wii has been very positive, but there is evidence that people think the control is too hard." I was concerned, but this was made even clearer after Miyamoto returned to Japan. Many said that the plus control pad item controls were too easily confused. A number of people said that the camera would move around on its own in the first-person item view, making it confusing, and people were left not knowing what they were supposed to do.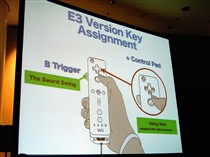 So, including the extension to develop the Wii version, we had only four months left and there was still so much of the game data that we had to come up with. Now, to receive negative feedback like this, what would you do in my shoes? "Maybe it's because on the show floor, there isn't enough time to get used to the Wii controls and that's why we're getting this response. Or, it's been switched over from the GameCube version and people are used to the GameCube controls, so of course they're going to have a hard time with it." These were the kind of thoughts that were running through my head as I was trying to get away from having to revisit the controls. I had to come up with a response to the negative reactions, and so while playing the other E3 playable launch titles for reference, I discovered that the number one thing missing from Zelda at the time.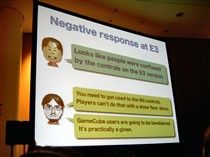 The controls we as developers had decided to implement in Zelda were ones that we had forced into the game in order to take advantage of the Wii controls. I had realized that I hadn't worried about making it easy to understand and intuitive and making people want to play the game; all those things relate. The feeling that I had that people would have to get used to the controls when working on switching controls over to the Wii was evidence of this, and I realized that I was forcing these controls onto the user. It wasn't a Zelda that would have been received well by the end user. I felt as though Zelda had been left behind by the other launch titles, and having hit rock-bottom, Miyamoto and I began rethinking the Wii controls completely.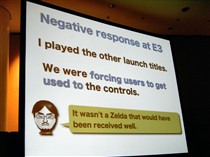 If you analyze all the negative feedback from E3, it all seemed to point to the same thing. It wasn't something that could be controlled with ease. When a person tries something new, they are simply looking for something that feels comfortable, and when it doesn't, they start to feel like they need to get used to it. But for users who aren't able to get used to it, it just becomes something complicated and difficult. I thought that making the controls direct was the answer to the game being too difficult, but ultimately, it was the complete opposite. That's when I was forced to realize that in order to resolve the issue, the most important thing to do was to provide the user with a sense of comfort and ease.