Check out the "remastered" segment from NWR's telethon!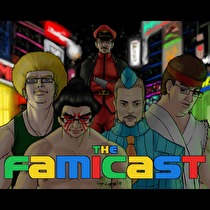 Subscribe via iTunes (Please rate and review, too!)
Did you miss the NWR Telethon this year? No problem! James and Danny are joined by 8-4 Play all-stars John Ricciardi and Justin "JJ" Epperson for this year's podcast telethon segment for the kids. This version of the episode contains all of the same content from when it originally aired on October 15, however, we have went ahead and put in musical breaks and enhanced the podcast as well. Woo!
As for what was actually on the Famicast segment, Danny recently got his hands on the retail version of Monster Hunter Stories and kicks off the show talking about it with everyone. He's still pretty early in, but the gang bring up interesting questions revealing more about the game (or something). After that, the crew delves into a feature discussion on the NX and what Japanese gamers need in terms of games and features. The show closes out with a new Super Mario themed interactive quiz from JC! Tons of laughs were had which will keep you going all the way down that "Sweet Road." If you would like to try you luck at the quiz, you can check it out here. (*note* The quiz link will only be active for one month starting at the time of this post.)
This podcast was edited by Danny Bivens.
Music for this episode of The Famicast is used with permission from 8 Bit Weapon. You can purchase their music and shirts from their website 8bitweapon.com
Additional music for this episode of The Famicast is copyrighted to Nintendo, and is included under fair use protection.
The artwork for the show was designed by Tony Losoya, follow him on Twitter @Tony_Losoya