In honor of the most recent NWR Game Club, Alex takes a look at the canonical sequel to Metroid: Other M.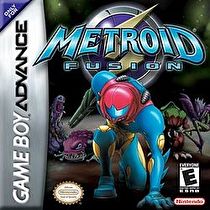 I suppose my memories of Metroid Fusion go back to about 2003, when an eight or nine-year-old me received a Game Boy Advance SP and a trip to the mall around my birthday, the purpose of which was to allow me to pick out any single game I wanted. Having bought Pokémon Ruby earlier that day, I went into KB Toys and picked out an interesting game I'd played at EB Games a few months prior: Metroid Fusion.
Fusion continues the series' 2D legacy to great effect. In typical Metroid fashion, Fusion is an action-adventure platforming game, taking place in a large area that slowly expands as Samus gains power-ups, which permit entry to new locations. Power-ups include things like the Plasma Beam, temperature-resistant suits, and bombs that allow destruction of certain, normally inaccessible walls. Samus obtains these items through direct download in the station's many data rooms and by defeating bosses. Unlike other Metroid games, power-ups aren't simply gained through a single victory: after defeating a boss, Samus is forced into a second fight with a hovering Core-X organism, which requires several hits to take down, making the power-up available.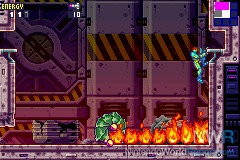 My original playthrough of Fusion was a mess. I had no idea how to check mission objectives (so I was just exploring until something happened), I skipped through the (initially) terrible and confusing story, and overall I sucked hard. Bosses took multiple tries, and simple enemies would kill me with embarrassing frequency. Eventually, I simply used Action Replay to give me max upgrades and health. That worked well for a while until I ended up stuck once more. I threw up my hands and, for the next nine years, remained convinced that what I slogged through was a difficult and confusing mess. To further state how terrible I used to be at video games: Metroid: Zero Mission took me over 20 hours to finish, and that's with a pretty insubstantial item collection rate.
For this reason, I didn't even consider touching Fusion when the game was released as part of the Ambassador program. I had my poor memories, and I was happy to leave them as such. But after I played Other M, things changed. The story, though poor, was mostly understandable, and the game was supposedly more a prequel to Fusion than the sequel to Super Metroid. That intruiged me. When I beat Other M a week before writing this, I thought I would pop open my "We're sorry" ROM of Fusion just to take a look.
When I first started up a new save file, it was weird. That unskippable wall of text was now interesting and said things I found myself wanting to read. The story connected incredibly well to Other M, and one could see how Samus' character had a terrible personality long before that Wii game.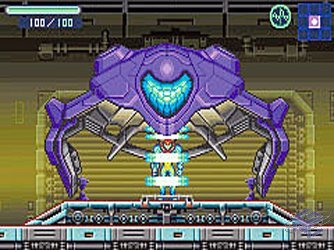 The gameplay was far more impressive than I remember, but far easier, too. In two sittings, I'd gotten past the point where, in my original playthrough, I was stuck while invincible. This was accomplished in about an hour and a half! I especially loved how frequently power-ups are obtained in the game, which routinely changes up the gameplay. The story continued to develop, and Other M's continuity to the series—from the dried up Ridley to Nightmare's return to Adam Malkovich's character—is downright eerie. In fact, I would go as far as to say that Metroid Fusion feels more like a cool WayForward sequel to Other M than Other M is the shaky prequel to Nintendo R&D 1's Fusion.
The bosses are also particularly great, with tons included. More importantly, the SA-X, Samus' doppelgänger and the main antagonist of Fusion, is genuinely menacing, and its entry into a room admittedly drudged up actual fear in me. The bosses themselves range in difficulty, from terribly easy to somewhat brutal. If you don't know the strategy to beat the final boss, expect some frustration—a whole lot of it.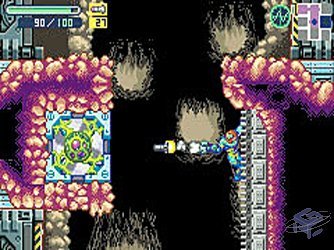 When I beat the game (at just under four hours, though my Activity Log claims 8.5), I was so glad that my perception of this game could be broken, and that something fairly antagonistic to my younger tastes became an experience I really treasured. Does it have its flaws? Definitely. The fact that bosses follow with monotonous Core-X fights every single time bothers me quite a bit, as does how progressing the story requires feeling around individual rooms a bit too much. All in all, though, Metroid Fusion is a great game, and if you haven't played it yet, in the words of Reggie Fils-Aime, "What's wrong with you?"