Turtles throw their hat into the ring and come out victorious in this classic SNES fighter.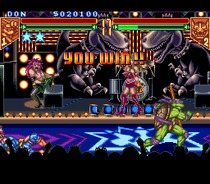 As a kid, I loved Street Fighter II. It was the game my friends and I talked about a lot. We tried to remember each character's moves, would challenge each other at the arcades or on the Super Nintendo version, and even discussed the possibilities of a cartoon or movie based on the game (those didn't turn out so well in the end). Such was our love of the game that we actually decided to try other games that were similar to Street Fighter II. This is how I found Teenage Mutant Ninja Turtles: Tournament Fighters.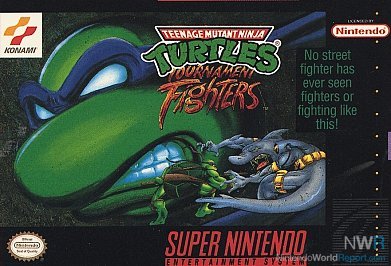 Of course, I also loved the Teenage Mutant Ninja Turtles. More specifically, I really loved Turtles in Time for the Super Nintendo, a port of the arcade game. It was both my admiration of the turtles and my desire to play as much Street Fighter II as possible that made my discovery of Tournament Fighters a reality.
Tournament Fighters tells two stories. In the first story, Studio 6 is hosting a fighting tournament where the winner can obtain a lot of money and fame, a very basic plot for a fighter. The second story, however, is far more in-depth and more akin to an episode of the series. The four turtles are relaxing on their sewer home when they receive a note from Karai, leader of the Foot Clan. The note says that they have kidnapped Master Splinter and April O' Neil. And thus the turtles set out to find them and battle many opponents in hopes of getting closer to their best friend and master.
The story itself was pretty typical TMNT affair. But note that at the time, while fighters did tell some stories, there wasn't a dedicated story mode present in most of them. The story mode in Tournament Fighters is an example of how stories in fighting games would evolve from this point on, going from being a small reward players would get from beating a boss to in some cases being integral to the enjoyment of the game (as is the case with the BlazBlu games).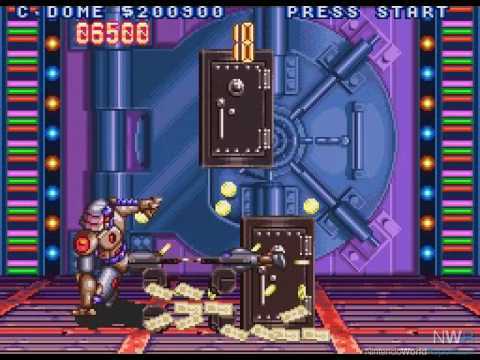 The game is basically Street Fighter II, but with Ninja Turtles characters. It is a 2D fighter based on speed and unique characters with special moves and attacks. There were many games that tried to copy the Street Fighter II formula, right down to specific character types. Dare I say it, Tournament Fighters came pretty darn close to fully imitating it, thus making it a really enjoyable title me and my friends couldn't get enough of.
The gameplay follows Street Fighter II's mechanics to near perfection. There are four attack buttons, two each for kick and punch, with a strong and weak version. As I mentioned, speed also played an important role in the mechanics. You could even alter the speed of the fights on the options menu to your liking. Best of all, it all controlled smoothly. That's what so fantastic about Tournament Fighters: despite how derivative it was of a much better source, it respected it and implemented its own ideas wonderfully without having to sacrifice quality to do so.
As expected, all four Ninja Turtles and Shredder are playable characters. But there were several characters that were unknown to me back in the day. Like some people in the TMNT fanbase, I grew up watching the TMNT cartoon and movies, not knowing that it was all based on a black and white comic, which in itself also spawned another series of comics under the Archie label once the television show exploded. These characters were: War (Archie Comics), Aska (a game-exclusive character), Wingnut (Archie Comics and one episode of the show), Armaggon (Archie Comics) and Karai (A leader of the Foot Clan, who is actually a woman, a fact that surprised me as a kid). Rat King, a character I already knew from the cartoon, was one of the main bosses. Chrome Dome was also a familiar face from the TV series.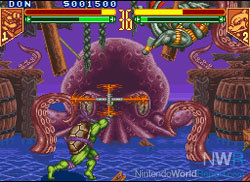 While the first time I played this game I was upset that there weren't any other characters from the show available as playable combatants, once I learned each character's history I appreciated them and even grew to like some of them.
One really cool thing about Tournament Fighters is that each character had a unique and powerful special move. If you pulled them off, you would be treated to a screen-filling attack. My favorite is Donatello's dragon attack, where he would summon a dragon and throw it at the opponent. It was a thing of beauty back in the day.
The sound was also great, not just the music but the voices and sound effects as well. Note that at the time, Street Fighter II didn't have much in terms of music and sound prowess, meaning that the characters all had the same voice samples. This isn't the case with Tournament Fighters. Each character is distinct and easy to tell apart. They have their own screams, yells, and taunts that gave the game a lot of personality. I may be rambling about something considered to be trivial by some, but I've always believed that when working on licensed games, you should present the license's world in the best way possible. Tournament Fighters does this with flying colors.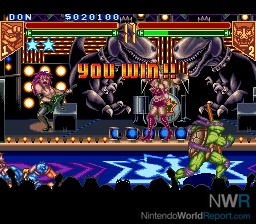 The music is insanely catchy, perhaps much more so than in any other fighting game. Often you are so distracted by the fighting going on that you would tune out and forget about the music. This wasn't the case with Tournament Fighters. I loved the music so much that I would go to the sound option and just listen to each of the tracks. My favorite is the Studio 6 theme song, aka the Rat King's theme. It is so much fun to listen to!
The funny thing is that years later, Ubisoft released TMNT Smash Up for the Wii. Much like Tournament Fighters, Smash Up took cues from another popular fighter: Nintendo's Super Smash Bros. series. Kind of funny how history tends to repeat itself, and while Smash Up wasn't as polished as Tournament Fighters it was still a really enjoyable experience.
Overall, TMNT: Tournament Fighters may not have been popular enough to be a beloved fighting game, but it is, in my honest opinion, one of the best licensed fighters ever released on the SNES. The polished fighting mechanics, detailed presentation, colorful characters, and captivating sound design all make for a great package and one of the best games to feature the heroes in a half shell.