It's never to early to book your ticket on the hype train!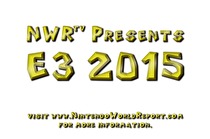 Believe it or not E3 is only a month and a half away. This year Nintendo World Report and our YouTube channel NWR TV will be bringing you with us like never before. We'll be producing tons of video content every day of E3 so that you won't miss a thing. Go beyond the press conferences and join us on the show floor. We'll have exclusive videos of all the latest Nintendo games along with interviews discussing how these games play. Don't worry: we'll still be writing a bunch of stuff, too. Check out the video below and get excited for the most extensive E3 coverage we've ever produced (outside of that time in the early 2000s where we made a DVD).
Star Fox animation graciously provided by Joeseph Morrisseau.