So that Zelda Wii U delay sure is a bummer. Join Neal and Addison as they talk about the delay and what it means for Wii U in 2015.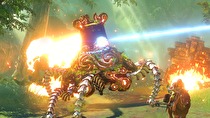 What a Friday afternoon bummer! The Legend of Zelda on Wii U, which was slated for a 2015 release in public by Eiji Aonuma three months ago, is very likely getting pushed back to 2016 (or maybe even beyond). Zelda on Wii U won't be at E3 2015, either, according to Nintendo of America. Wow. What a crappy fourth birthday for the 3DS in North America.
Join Neal, John, Curt, and Addison as they talk about it live starting at around 8 p.m. ET (or not live if you see this later).