David Lloyd joins the boys to talk Pokemon Let's Go, Space Dave, Moonlighter, This War of Mine, Frostpunk, and Rock Boshers! Then Mick Waites stops by for a quick Mystery History before we round out the show with some listener mail!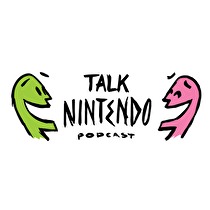 David Lloyd takes a break from tending the Thirsty Mage and drops by for some Talk Nintendo fun. The gang kicks off the show with some quick bites. Casey picked up Space Dave on an insane sale and also found time to wrap up Pokemon. Perry in true Pert fashion is about half way done... what a hoser! Getting into the beefy goodness David's been busy playing Moonlighter, This War of Mine, and Frostpunk. Then we cap off What We've Been Playing with a little eShop title called Rock Boshers DX Director's Cut... mmm jammy scones.
I probably start the second paragraph of each of these the same way, but another week and another boatload of games hitting the eShop. So what's the only course of action? LIGHTENING ROUND! We make it through the 30 or so games relatively quickly so we can jump into the smallest News block of all time.
David has to step out for a quick pint, but good thing we got Mick Waites on the horn, our friend from across the pond. He decided to give us a run for our money with a Mystery History guest edition! Oh baby it's a good one you won't want to miss. Then to polish off this episode David rejoins us for a nice letter from Holden which talks about one of our favorite things, the hype train!
David Lloyd (@TheThirstyMage) joins the boys to talk #PokemonLetsGo, #SpaceDave, #Moonlighter, #ThisWarofMine, #Frostpunk + Rock Boshers! Then Mick Waites (@FourHorsesGames) stops by for a Mystery History before we finish the show with some listener mail!https://t.co/ukl3BwKmQL pic.twitter.com/VV04cZWi7N

— TalkNintendoPodcast (@TalkNintendoPod) November 29, 2018
If you have any questions, comments or concerns please contact by tweeting us or by send us an email!