Lots of news and excitement is up in the air, but we've got some plans to start.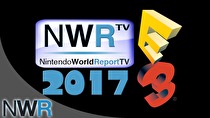 Thanks to EA, E3 2017 more or less starts today. However, most likely, if you're here for Nintendo goodness, the show won't start in earnest until Tuesday June 13 when Nintendo's E3 Spotlight starts at 12 p.m. ET/9 a.m. PT. With that in mind, we've got some plans for E3 2017, though be warned: a lot of it could change depending on what Nintendo reveals.
Starting at 10 a.m. ET/7 a.m. PT on Tuesday June 13, our east coast contingent, congregated at an undisclosed New Jersey bunker, will stream some ARMS and get ready for the Nintendo event. At around 11:30 a.m. ET, that group, along with NWR staffers around the globe, will kick-off a pre-show for the Nintendo E3 Spotlight. Then, at 12 p.m. ET, Nintendo reveals their deepest, darkest secrets - mostly focused on New Donk City.
After that, things will be somewhat up in the air. Stay tuned to NWRTV as we will be live after the event to break it down and focus on specific reveals. We'll have live reports from the show floor, maybe a few game streams, and likely a whole lot of chicanery. Our east coast group is also doing a weird betting special that will result in one of them playing a terrible game of the winner's choosing. (Look for more details on that soon!)
At around 8 p.m. ET, Radio Free Nintendo will go live with their thoughts on E3, followed by Nintendo News Report going live at 10 p.m. ET. On Wednesday, we'll be around as well, but the schedule is a lot foggier.
In addition to all of that, we have a crack team with (rough estimate) over 50 years of E3 experience covering the event as it happens in Los Angeles.
Through it all, hang with us on Discord and chat about everything from Mario Odyssey to whatever token third-party games show up to Metroid dreams.