We're doing the podcast LIVE, all day long, to raise money for Child's Play. Content schedule added!
It's over! Thank you so much for helping us raise over $2000 for Child's Play. Our donation link will be up for a little while yet, so you still have a chance to contribute to this great cause. The recording is now available for download: part one, part two and part three.
Join us in the chat room while we're on air. Schedule is below the chat box. Having trouble? You can also connect with a dedicated IRC client. Server: irc.browsingtheinternet.com Channel: #nwr
JIGGAWHAT: An epic, unprecedented Nintendo/gaming-themed live audio "podcast" telethon
JIGGAWHY: To support Child's Play, a charity that provides toys and games to sick kids
JIGGAWHO: Radio Free Nintendo crew, Nintendo World Report staff, special guests, and you!
JIGGAWHEN: Saturday, December 4, 12:00pm (Noon) Eastern until...?
JIGGAWHERE: Right here! Check back for the audio stream, live chat, and donation link.
JIGGAHOW: Magic of the Internet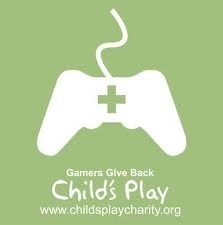 Here at Nintendo World Report, we've long been supporters of Child's Play, the fantastic charity that provides toys and games to hospitalized kids. If you're not familiar with Child's Play, check out the official website and listen to Jonny's RFN Special interview with Mike Krahulik, co-founder of the charity (and Penny Arcade), way back in 2007. So, when our old friend Karl Castaneda brought us an idea for doing a special, live-streaming version of RFN to support Child's Play, we got excited. Not only can we do things live that don't make sense in the recorded version, like real-time listener interaction, but the lack of editing means there are fewer constraints on how long the show can run. Then we thought... why not do it telethon-style, all day long? With a respectful nod to Desert Bus for Hope, we present RFN: Doin' It Live... for the Kids!
***If you are new to RFN, please be advised that the show contains explicit language. We're doin' it for the kids, but the show itself is for grown-ups.***
Content Program and Fundraising Goals
(Note: Schedule and guests are subject to change before and even during event. Each hour of content will be unlocked when the corresponding donation goal is met.)
12:00 EST - Intro / New Business with Billy Berghammer (Free)
1:00 EST - Super NES/Famicom 20th Anniversary Retrospective ($100)
2:00 EST - Radio Trivia (game music) with Michael "TYP" Cole ($300)
3:00 EST - Craig Harris chats about holiday games, future systems, and more! ($750)
4:00 EST - Hidden Gems of WiiWare, DSiWare, and Virtual Console ($1250)
5:00 EST - Game of the Year Roundtable ($1750)
6:00 EST - Nintendo Quiz with Karlie and James ($2500)
7:00 EST - Wii Report Card 2010 -- Our Annual Check-Up ($3250)
8:00 EST - Listener Interaction Extravaganza! ($4000)
9:00 EST - Wii 2/HD and 3DS Wishlists with Billy Berghammer ($5000)
10:00 EST - Jeff Kalles on Child's Play and a look back at Metroid Prime Hunters ($7500)
11:00 EST - Closing Thoughts, Drinking Games, and Calamity ($10,000)
Prize List for Trivia Winners (Pick your prize! We'll ship anywhere!)
Swag:
Nintendo Tote Bag
Steamboat Willie Doll w/ Epic Mickey Tote Bag
Prinny Plush Doll
CoD4 Modern Warfare T-Shirt (2XL)
DKCR T-Shirt (size TBD)
FlingSmash Plush
Help Wanted Collectible Cards w/ Arc Rise Fantasia JRPG Hair Guide
Galaxy 2 Bag w/ NSMB Wii Poster / Vintage Nintendo Scratch-Off Cards
DS/DSi Accessory Pack
RFN T-Shirt (Pre-Order; Available early 2011)
Games:
Dementium II (DS)
100 Classic Books (DS)
Madden 11 (Wii)
No More Heroes 2 (Wii)
The Sky Crawlers Innocent Aces (Wii)
Final Fantasy Crystal Chronicles: The Crystal Bearers (Wii)
Call of Duty Black Ops (DS)
Fishing Master (Wii)
FIFA 11 (Wii)
Trackmania (DS)
WiiWare/VC game of your choice; U.S.-only due to Wii gifting restrictions, up to four winners (Thanks to UncleBob!)
By using the ChipIn feature, 100% of your donation will be sent directly to Child's Play via PayPal (no fees will be deducted, since Child's Play is a non-profit organization). The ChipIn box simply helps us track how much money has been raised through RFN listeners. Additional hours of the live show will be unlocked once we reach certain fundraising goals. You can start donating NOW to help make sure this will be an epic event and a big help to Child's Play! We hope to make a rough recording of the entire live show available to each donor and maybe to all RFN subscribers. However, for technical reasons, we cannot guarantee that a recording will be possible. Be sure to attend the live broadcast on December 4th so you don't miss a thing!