This only narrows it down to about 200 fighting game veterans and the Metal Slug dudes.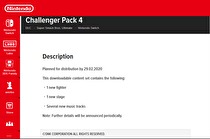 A copyright slipup from Nintendo of Europe appears to have nailed down the publisher of the Smash Bros character to follow Banjo and Kazooie.
Freelance writer and Source Gaming founder @PushDustin first located a page on Nintendo's European website, which lists the copyright of the character as SNK. For comparison, the same page for Hero lists their copyright as Armor Project, Bird Studio, and SquareEnix.
The website text doesn't narrow down the list any further, though infamous SNK boss Geese Howard recently crossed over into Tekken 7 for PlayStation 4, Xbox One, and PC.