A reliable source of information seems to suggest more than the DSi Shop is ending.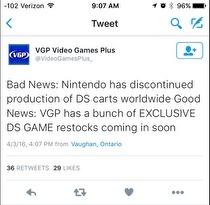 According to a since-deleted tweet from a Canadian retailer, production of DS cards may be winding down.
The tweet indicates that VudeoGamesPlus. may have "exclusive reprints" as a result of the change. VideoGamesPlus also outed North America's recent Nintendo Selects additions weeks before their eventual release.
We do not have confirmation from Nintendo, though other sources have corroborated the story, which would coincide with the impending shutdown of the DSi Shop next year. The last new retail release for the DS was November 2014's Winx Club: Saving Alfea by Little Orbit.