If true, look for "Pokémon Stars" in 2019 or so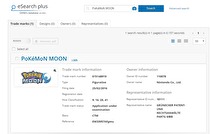 A recently launched website named "NerdLeaks" has unearthed what appear to be European trademark filings for future Pokémon games ahead of tomorrow's Pokémon Direct.
The filings appear to show a Pokémon Sun and Pokémon Moon, with the status of the trademark given as "Application under examination" and a filing date of 25 February 2016. A logo is given in both applications.
Nintendo has registered multiple trademarks for Pokémon in the past, such as registering "Pokemon" and every color as found in 2009. Of those, Pokémon Black and White did end up releasing, but approximately 18 months later in Japan. It is possible that Sun and Moon may be announced tomorrow, but nothing is confirmed at this time and the trademark may provide a form of legal protection in the event another party would try to claim the trademark.