Could this be the last hurrah of the Year of Luigi?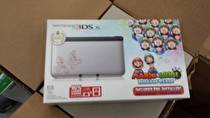 A special edition Mario and Luigi Dream Team 3DS XL may be hitting shelves soon, just in time for the holiday season. A Walmart employee sent in a photo of the system to My Nintendo News and reported a release date of December 2.
The silver system features a simple illustration of Mario and Luigi on the front and includes Mario and Luigi: Dream Team pre-installed on the console. The photo in question was taken in the stock room of the store, on hold until the sale date. There is currently no official word on when, or if, the console will be releasing or what it will cost.