So the rumors are true!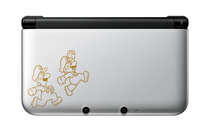 A Mario and Luigi themed 3DS XL is now available in stores and comes with Mario and Luigi: Dream Team pre-installed. The bundle has a suggested retail price of $199.99.
The limited edition console features line illustrations of the brothers running on the outside of the console against a silver background.
Dream Team is the fourth game in the Mario and Luigi RPG series. It was released this past summer to positive reviews. In addition to this new 3DS XL, Nintendo has recently released two more bundles: a cobalt blue console with Luigi's Mansion: Dark Moon ($169.99), and a gold and black system with The Legend of Zelda: A Link Between Worlds ($219.99).
Which is your favorite of the holiday bundles? Let us know in the comment section below!