Get ready for some slap-happy fun in February, maybe.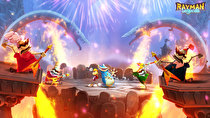 Rayman Legends, currently set to come out in Q1 2013 on Wii U, might be coming out on February 26, according to a report from Pure Nintendo.
However, Pure Nintendo's story, which was teased for a few days before it was posted, was taken down. Ubisoft issued the following statement after the story was taken down: "Ubisoft confirms that Rayman Legends is scheduled for release in early 2013. The team is working hard to finalize the game and is looking forward to sharing more details with fans very soon!"
Rayman Legends was previously touted as a holiday 2012 release, but was pushed back to early 2013. It is a part of Wii U's launch window, which ends March 31, 2013.