For the purposes of this question, any orifice is acceptable.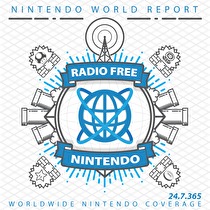 Subscribe via iTunes (Please rate and review, too!)
Guillaume is still out, and this time Jon is out as well.
Oh what to do, what to do?
How about have Greg and James invite two guests on the show: former NWR-staffer and Mario Party Party participant Xander Morningstar and the return of former NWR Director and former RFN host Jonny Metts.
We kick the show off with Xander telling us how his Dr. Mario World speedrun ended. Then, he and Jonny review The Super Mario Bros. Movie. Jonny then dives into Atari history with Atari 50 and Akka Arrh. Atari 50 is a great collection and Jeff Minter's decision to remake canceled Atari arcade game Akka Arrh sure is a choice. Xander closes out New Business accidentally responding to last week's email about series meta-challenges: telling us about his runs through the Metroid, Zelda, and Mario franchises.
After a break we hit a single email question: do we expect the successor to the Switch have backwards compatibility? Who can say? Not us! You can ask us for such daring insights here.
Lastly, the entire crew talk about the "final" trailer to The Legend of Zelda: Tears of the Kingdom.
Speaking of Zelda, here's your reminder that we're still going to do our Wind Waker RetroActive part 2, next month. You can post your comments here
This episode was edited by James Jones. The "Men of Leisure" theme song was produced exclusively for Radio Free Nintendo by Perry Burkum. Hear more at Perry's SoundCloud. The Radio Free Nintendo logo was produced by Connor Strickland. See what he's up to at his website.
This episode's ending music is The Library of Ancients from Final Fantasy V. Composition by Nobuo Uematsu. It was requested by A.G.. All rights reserved by Square Enix Holdings Co., Ltd.