It's got all the power!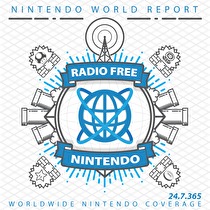 Subscribe via iTunes (Please rate and review, too!)
Jon's back, everybody! Your Lindemann Withdraw Syndrome can now be cured.
He kicks-off New Business with a look at Metroid: Samus Returns. Samus on an extermination mission feels a little strange at this point, and for him the experience is a little uneven. Gui is still playing Xenoblade Chronicles 2. Despite beating the game he is not feeling the power of friendship. Spoiler warning for the ending. Greg's taken a look at The Messenger's new summertime DLC, which requires multiple downloads to access. James closes out New Business with impressions of Dr. Mario World. It's bad. The end.
After the break we answer a little bit of email, but mostly we talk about the Switch Lite. You can send your emails to our inbox.
This episode was barely touched by Guillaume Veillette. The "Men of Leisure" theme song was produced exclusively for Radio Free Nintendo by Perry Burkum. Hear more at Perry's SoundCloud. The Radio Free Nintendo logo was produced by Connor Strickland. See more of his work at his website.
This episode's ending music is Broken Coral from Splatoon. It was requested by Mihaly. All rights were reserved by Nintnedo Co., Ltd.