Our SEO is on point this week.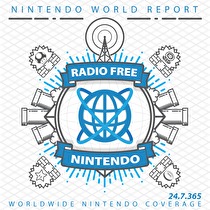 Subscribe via iTunes (Please rate and review, too!)
Jon "Iron Man" Lindemann is out this week, but due to James "The Worst Host" Jones' inability to book a guest his usually mostly-vacant seat is totally vacant.
Guillaume gets the honor of kicking off New Business this week. He's back on the Kirby Star Allies charm offensive, but this game is still a Kirby game, so there's not much left to say on the matter. He's mostly been playing Doom, the first of Panic Button's "how did they do it" Switch ports. Greg finally delivered on the promise of the 2DS, by importing one from Japan to bypass Nintendo's region locking strategy. His first foray into Japan-only 3DS games is Yoshi no Panepon - a franchise killed by Nintendo's decision to localize it using a brand name they didn't own. He then takes a look at EX Troopers, the anime-infused 3DS/PS3 Lost Planet spin-off. Even without English text, it's pretty enjoyable. James closes out New Business spending way too much time talking about Minit. The Zelda-inspired Speed Runner simulator makes you pick objectives you can complete within 60 seconds.
After the break, the trio picks out a trio of emails. This week we: figure out where Animal Crossing is at, put a leaky spin on Franchise Executioner, and push the Dragon Quest franchise for Summer Slam. You too can make a face-turn by sending us an email
This episode was edited by Guillaume Veillette. The "Men of Leisure" theme song was produced exclusively for Radio Free Nintendo by Perry Burkum. Hear more at Perry's SoundCloud. The Radio Free Nintendo logo was produced by Connor Strickland. See more of his work at his website.
This episode's ending music is Moonsong, from Cave Story. It was selected by Greg. Composition by Daisuke Amaya. All rights reserved by Studio Pixel.