Don't worry, that's 100% sexual. Look at that smile! How could it be anything but?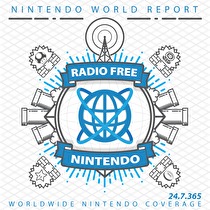 Subscribe via iTunes (Please rate and review, too!)
You might have heard that James was at E3 last week. Now he's going to make you listen to him ramble on incoherently about it. It's a strong opening for New Business, or for an interrogation. Jon's been playing Fortnite with his fellow kids, both on Switch and Xbox One X: The world's most powerful video game console™. It turns out everything just works, the game is a blast, and moving between platforms is a breeze - unless you ever thought about Fortnite while within a 20 mile radius of a PS4. Given James' laborious E3 discussion, we somehow exhausted all the time for the first segment, so we continue New Business after the break. Greg has played through the Octo Expansion DLC for Splatoon 2, and finds it a challenging addition to the package. This is where I'd include some kind of immature joke about "Octo Expansion", but the article is already late this week. Lastly, Guillaume finds his true love in Pac-Man Championship Edition 2 Plus. Look out, the Grim Reaper of online leaderboards has a new haunt.
Not content to waste your time with a New Business-only episode, the team manages to squeeze in a couple of emails. This week we try to decide if Smash Ultimate is TOO dependent on Smashes of Christmas Past, and then we play some weird CFL-like version of Nintendo Franchise Executioner. You can line up extra receivers on our longer fields and score a rouge by sending us an email.
This episode was edited by Guillaume Veillette. The "Men of Leisure" theme song was produced exclusively for Radio Free Nintendo by Perry Burkum. Hear more at Perry's SoundCloud. The Radio Free Nintendo logo was produced by Connor Strickland. See more of his work at his website.
This episode's ending music is Main Theme, from Disaster: Day of Crisis. All rights reserved by Nintendo Co., Ltd.