Git 'R' Done, chap.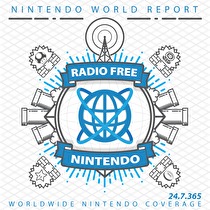 Subscribe via iTunes (Please rate and review, too!)
Jon continues his half-hearted support of the show by being late again, so we cover New Business without him. James is honoring WiiWare by taking a look at Final Fantasy Crystal Chronicles: My Life as a Darklord. This literal tower defense game spurs a deeper reflection on the fate of the Crystal Chronicles franchise. Greg gives us a quick update on his navigation of the world of Xenoblade Chronicles 2 following the most recent update. He then joins James looking into the WiiWare abyss, looking at demos of Fluidity and Jett Rocket. Gui rented the Switch version of L.A. Noire. He's unimpressed by Cole's unique skill at yelling at people. He also greatly enjoyed twin-stick shooter Tesla vs Lovecraft.
After the break, Jon joins us for Listener Mail. We start with a quick look at the "Nindie" event. Just to be clear, the use of quotation marks is meant to reflect derision at such a horrific marking buzzword. We then answer a trio of emails: which Atlus 3DS RPG to buy, getting Wii Points from Larry The Cable Guy, and why London doesn't have a larger retro scene. You can join our movement to reject Nintendo's weirdly paternalistic term for indie games by sending us an email.
This episode was edited by James Jones. The "Men of Leisure" theme song was produced exclusively for Radio Free Nintendo by Perry Burkum. Hear more at Perry's SoundCloud. The Radio Free Nintendo logo was produced by Connor Strickland. See more of his work at his website.
This episode's ending music was requested by MASB: Find Mii, from Nintendo 3DS. All rights reserved by Nintendo Co., Ltd..