Parenting doesn't come with a Funky Mode.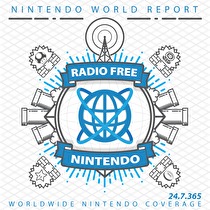 Subscribe via iTunes (Please rate and review, too!)
Nintendo knows what they're doing. Yet again, RFN has to adapt to a series of recording-day announcements. This time, we're running through the January 11 Nintendo Direct Mini. It's more than just ports and Kongs; Nintendo announced a cutie-fighter from SNK, and the return of a story mode to Mario Tennis. It was only about 15 minutes, but we spend nearly an hour breaking it down. This is probably where you're expecting a "Funky Mode" joke, but we're well beyond that.
Or rather, we already made a "Funky Mode" joke.
After the break we have a short New Business. James sets aside his rambling excitement for SNK Heroines to talk about the demo for Dragon Quest Builders, released immediately following the Direct. He's surprisingly positive about a "more linear" take on Minecraft. Guillaume offers a quick update on Etrian Odyssey V before talking about early-2000s French adventure game Syberia. Il ne fut pas particulièrement impressionné. Greg is right at the end of Xenoblade Chronicles 2, opting to wait until the game's conclusion to offer any additional thoughts. Jon closes out New Business with current money-press PlayerUnknown's Battlegrounds for Xbox One X, The World's Most...oh, forget it. He's bought into the game's tension and risk/reward decisions. He is no doubt looking forward to 2020's Dragon Quest: Battlegrounds. He also has thoughts on Thumper, a strange but great rhythm-action game now available on everything.
With a few spare minutes, we manage to answer a single email: My son has a vivid imagination. How do I prevent it from becoming TOO vivid? You can send your inquires as to how to parent mustachioed babies to our mailbag.
This episode was edited by Guillaume Veillette. The "Men of Leisure" theme song was produced exclusively for Radio Free Nintendo by Perry Burkum. Hear more at Perry's SoundCloud. The Radio Free Nintendo logo was produced by Connor Strickland. See more of his work at his website.
This episode's ending music is requested by Adrian: Title Screen Theme, from Sword World SFC 2: Inishie no Kyojin Densetsu. Composition by Daisuke Emura. All rights reserved by Daikokuya Global Holding Co., Ltd.