The Queen's English makes this far worse.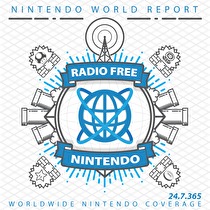 Subscribe via iTunes (Please rate and review, too!)
Greg was disgusted by the clemency shown Jon "The Unprofessional" Lindemann in allowing his return, so he took the week off in protest. In his place, we're joined by Alex Dyke of Say Whatever Podcast. Alex kicks off New Business with a look at Phantom Trigger for Switch. The Hyper Light Drifter comparisons are inescapable, but he hasn't yet had the time to judge if the game can stand on its own merits. Instead, disaster pointed him towards Mario Party: Star Rush. He insists it's good; the rest of the crew remains skeptical. Guillaume has impressions of SteamWorld Dig 2, which has been digging up rave reviews. He also takes a look at cooperative platformer shooter Lovers in a Dangerous Spacetime, along with the latest update to Super Mario Run. Surprising no-one, Jon has impressions of Metroid: Samus Returns. Much like Greg, he greatly enjoys Samus' return to 2D. Unlike Greg, he doesn't try to gin up the Metroid fans about their series' perceived death. James concludes New Business with the Newest Business: Golf Story for Switch. Released hours earlier, his impressions are based on almost exactly one hour of gameplay, viewable here.
After the break we return to Listener Mail. This week we tackle two questions: what the heck is a Rogue-like, and what is the significance of Tencent's Arena of Valor coming to Switch. Technically, we answered three emails. We're not THAT slow. You can ask us a question via the inbox.
This episode was edited by Guillaume Veillette. The "Men of Leisure" theme song was produced exclusively for Radio Free Nintendo by Perry Burkum. Hear more at Perry's SoundCloud. The Radio Free Nintendo logo was produced by Connor Strickland. See more of his work at his website.
This episode's ending music is Nimbus land from Super Mario RPG. Composition by Yoko Shimomura. It was selected by Greg. All rights reserved by Nintendo Co., Ltd. and Square Enix Holdings Co., Ltd.